By Jennifer Wise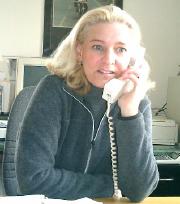 Congratulations to all of you who participated in brevets around the country this season. Bravo to the Davis Bike Club and their successful 1200k, the Gold Rush Randonnée. Read all about it starting with Jim Bradbury's story. Results and a report by Michael Lau are also available in this issue.
I've had the good fortune this summer to have OLN bring the Tour de France into my home every morning
live
. It has been spectacular. As this newsletter went to press, the mountain stages were over, but the fat lady had not yet sung. Lance was radiant in yellow and Jan Ullrich remained a formidable foe. Their respect for each other was evident. It was stunningly impressive to watch them climb the steep Pyrenees mountains, together, day after day. It was super-human. I gave Lance a standing ovation, cheering loudly, which only served to frighten my cat, who got all "fat-tail," and skidded out of the living room to hide.
As Lance and Jan battled up the Col de Tourmalet, 35 Randonneurs were struggling through the challenging Boston 600k Brevet, in a last ditch effort to qualify for BMB. At the same moment some 265 Randonneurs, (13 American), were riding through the British countryside as part of the London-Edinburgh-London 1400k. Meanwhile, a gathering of Randonneurs were racing to catch the ferry in the Super Scandinavian 1200k in Denmark. I could almost feel the pulse of cyclists near and far pedaling toward each respective goal. The earth was literally vibrating with energy from the athleticism of those on bikes around the world.
Think about the Randonneur heroes in your life. Is the person riding next to you an inspiration? What about the behind-the-scenes person who stopped to help you fix a flat, at night, in the cold. Or an RBA who went out of his way for you? Who told you about Randonneurs USA? Or helped you get ready for PBP? RUSA would like to recognize that person with a special honour, the American Randonneur Award. Give it some serious thought, then submit the name of the person you think deserves this high honour.
It's time to apply for Randonneur awards. Add up the distance of your brevets this year. Are you entitled to a RUSA medal? If you did a brevet series this year, you are a Super Randonneur and definitely deserve a medal! Do you qualify for the ultimate of awards - the Randonneur 5000 medal?
Now back to BMB! J