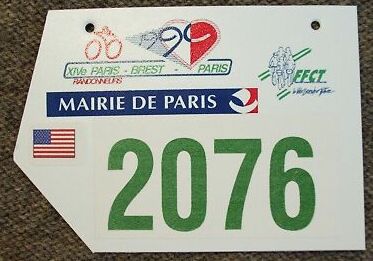 The 1200-kilometer Paris-Brest-Paris Randonneurs is one of the most grueling long-distance cycling events ever created. Begun as a professional road race in 1891, it evolved into a timed endurance ride, or randonnée, put on by the Audax Club Parisien for amateurs during the middle part of the 20th century. Finishing within the 90-hour time limit is widely seen as an outstanding sporting accomplishment for any cyclist to achieve. Along with the required athleticism, each finisher must possess uncommon determination. Indeed, the event is all about having one's mind convince the body to keep going long after all reasonable limits of exhaustion have been passed. Thus, to do PBP successfully once is special; to do it more than that is extraordinary. Most of the riders' names entered into the event's "Great Book" of official finishers are French, but increasingly more foreigners have been joining the fraternity since the 1970s, including the Americans listed below.
In 1901 an American racer named Charly Miller successfully finished the second PBP race in 5th place. It would be another 74 years until the next Americans' names where added to the list of PBP laureates. At the 1975 randonneur event Creig Hoyt, Herman Falsetti, Annette Hillan (now Shaffer), and Harriet Fell all made it back to Paris successfully inside the time limit and earned their medals. Memorize their names; each of these brave pioneers deserves our respect and appreciation. For more information on this legendary event, see A Short History of PBP.
Following is the list of American Finishers of the Audax Club Parisien's Paris-Brest-Paris Randonneurs (1975-2003). Source material for 1975-1995 was compiled by Marty Wolf for the Journal of the International Randonneurs dated Oct. 29, 1996 and then updated by Lois Springsteen and Bill Bryant to include results from the list of American finishers at the PBP Randonneurs 2003 published in the November, 2003 issue of American Randonneur Then, after PBP 2007, the ACP placed their historical records online and James Kuehn developed a database-driven methodology for displaying these results. The RUSA volunteer team has combed through years of records in an effort to make this accurate. If you know of any errors, updates or omissions please notify RUSA PBP Participants.
Note: (F) denotes women riders.
Click Here to see a complete list of American Anciens et Anciennes.