(An abridged version of this article previously appeared in the 1999 PBP Yearbook published by Randonneurs USA.)
A SHORT HISTORY OF PARIS-BREST-PARIS 
©Bill Bryant 1999, 2003, 2021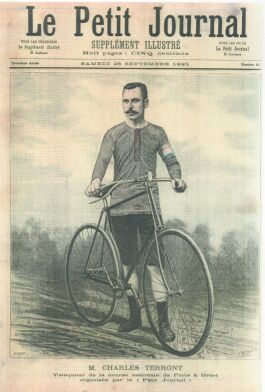 First run in 1891, the 1200-kilometer Paris-Brest-Paris is a grueling test of human endurance and cycling ability. "PBP", as it is commonly called, is organized every four years by the Audax Club Parisien and its Paris-Brest-Paris Randonneur is the oldest bicycling event still run on a regular basis on the open road. (An Australian track race and a British hill climb race both started in 1887 and continue into modern times.) Beginning on the southwestern side of the French capital, PBP travels west to the port city of Brest on the Atlantic Ocean and returns (mostly) along the same route. Today's randonneur cyclists, while no longer riding the primitive machines used 130 years ago over dirt roads and cobblestones, still have to face up to rough weather, endless hills, and pedaling around the clock. A 90-hour time limit ensures that only the hardiest randonneurs and randonneuses earn the prestigious PBP finisher's medal and have their name entered into the event's Great Book along with every other finisher going back to the very first PBP. To become a PBP ancien (or ancienne for women) is to join an elite group of cyclists who have successfully endured this mighty challenge. No longer a contest for professional racing cyclists (whose entry is now forbidden), PBP evolved into a timed randonnée or brevet for hard-riding amateurs during the middle part of the 20th century.
The Racing Years
In 1891 people didn't know what could be done on the bicycle. Some medical experts of the day decried its alleged harm to the human body, and some members of the clergy said the same about potential damage to the rider's soul. Some women boldly insisted on riding bikes, just like men! Racing on velodromes in front of throngs of spectators had begun ten years earlier and cycling around town by wealthy enthusiasts who could afford a machine was common enough, but the idea of covering long distances on the open road was still in its infancy. Nonetheless, as the turn of the century approached, ideas about what this fascinating new invention could do began to expand.
Early attempts at road racing and touring over hill and dale had started some years before, but they certainly weren't at all frequent. Rutted and dusty in dry weather or muddy after rain, the unpaved roads of the time were frequently in poor condition. Encountered mostly in cities, bumpy cobblestones were often destructive to the fragile bicycle wheels as well. In spite of that, in the spring of 1891 the inaugural Bordeaux-to-Paris was held, a race on the open road that covered a whopping 572 kilometers. It took the winner, G.P. Mills of England, 27 hours to arrive in Paris. The sheer audacity of the event captured the public's attention and newspaper sales shot up for days before and after. This wasn't lost on the editor (and devoted cycling enthusiast) of Le Petit Journal, Pierre Griffard. Also not lost was the fact that foreign riders had dominated Bordeaux-Paris from start to finish—the first Frenchman was a distant fifth place.
The inaugural Paris-Brest-Paris was announced for early September of 1891. Griffard intended it to be the supreme test of bicycle reliability and the willpower of its rider. He didn't miss the mark: at 1,200 kilometers, PBP would make Bordeaux-Paris seem like child's play. Only male French cyclists were allowed to enter. Each rider could have up to ten paid pacers strategically placed along the route to help with drafting and providing mechanical assistance. (Though a common racing practice of the time, only a few of the most well-sponsored racers employed pacers at PBP.) Since reliable automobiles were still some years off into the future, the race would be monitored by a system of event judges and observers connected along the route by train and telegraph. Newspaper reporters would, of course, send their dispatches back to Paris so the public could be supplied with special editions reporting the race as it occurred. PBP also caught the attention of bicycle and tire manufacturers wanting to show the cycling-crazy public that their products were superior to other brands.
Unlike the modern rural PBP route which successfully avoids the busier highways west of Paris, the original route followed the Great West Road to Brest, or Route Nationale 12 as it came to be known, through the cities of La Queue-en-Yveline, Mortagne-au-Perche, Pré-en-Pail, Laval, Montauban-de-Bretagne, Saint Brieuc, and Morlaix. Riders were required to stop in each of these contrôle towns and have their route book signed and stamped at each checkpoint, a practice still done today. No one knew how long it would take to cycle the extraordinary distance, and nay-sayers were convinced it couldn't be done at all; some even claimed that some foolish riders might die in the attempt! During that summer of 1891, in a much simpler place and time than ours, French newspapers were filled with stories and speculation about the upcoming test and the public's imagination was riveted on this outstanding wager of audacity and determination. Over 400 riders entered the inaugural PBP, but many apparently came to their senses; 206 brave cyclists eventually set off just before sunrise on September 6th amid great pomp and ceremony. How many, everyone in the vast crowds wondered, would make it back to Paris in one piece?
Widely reported in the press and discussed by the general public, the first edition of PBP was a huge success. The winner, Charles Terront, triumphantly, albeit wearily, pedaled into Paris at dawn three days later, after slightly less than 72 sleepless hours on the road. Despite the early hour, over ten thousand cheering spectators were awaiting his arrival. His was an epic ride against his competitors and nature itself, and Terront became national celebrity. A little over half the starters gave up along the way and got themselves to the nearest train station, while one hundred haggard survivors continued to trickle into Paris over the next seven days. Along with prize money to 17th place, these lion-hearted heroes were all given a handsome commemorative medal inscribed with their name and time, and the legend of Paris-Brest-Paris was born.
After the first event in 1891, there were PBP races in 1901, 1911, 1921, 1931, 1948, and 1951. The ten-year interval seemed to reflect the difficulty of organizing such a long race, and also because the Herculean event was so hard on the racers themselves—one PBP in a rider's career was widely felt to be more than enough! Though the starting fields at each PBP professional race were small (25-45 riders), most editions, especially the earliest ones, attracted the best endurance racers of the day. For example, already twice victorious in Paris-Roubaix, the winner of the 1901 PBP race was Maurice Garin, who would then go on to win the inaugural Tour de France in 1903.
The second PBP was also significant because entry was opened up to foreign racers and this made it a legitimate sporting contest. Among the 1901 starters was Chicago's Charly Miller, a successful long-distance track event specialist. Under-funded for PBP, Miller lacked most of the team support his rivals employed, particularly the all-important pacers. Yet, Miller would doggedly persevere alone through bad luck with numerous punctures and a broken bicycle. He arrived back in Paris on a hastily borrowed replacement for a fine fifth-place finish and wide-spread acclaim. His fast time of 56 hours, 40 minutes is still a remarkable feat that most modern riders would love to achieve. Thus, the 26-year-old Miller was the first American to enter, and complete PBP. Moreover, Charly Miller's self-reliance and stubborn determination remain an excellent model for today's randonneurs and randonneuses to emulate.
Beginning in 1901, the PBP entrants were divided into two groups: the fast coureurs de vitesse and the slower touristes-routiers. These hardy amateurs, denied all the team support given to the racers, were the predecessors of today's self-sufficient randonneurs. They often numbered over a hundred in each PBP until 1931. Another big change came in 1911; no intermediate pacers were allowed to help the racers, as had been the practice in the first two PBPs. From then on, the racers would have to make do with teammates who rode every inch of the course alongside their leader.
In 1931 another fundamental change came to PBP. While still a prestigious professional race, the organizers dropped the category for the unglamorous touristes-routiers. Luckily for today's randonneurs, the Audax Club Parisien (ACP) stepped in and organized a 1,200-kilometer brevet run alongside the race. Entrance was predicated upon having done a successful 300-kilometer brevet. (Tandem stokers could get in with just a 200-kilometer brevet to their credit.) About 60 randonneurs took the route that year, among them several women, a PBP first. Several randonneuses were on tandems and two used solo bikes. Riding with her husband Jean on a tandem, Madame Germaine Danis clocked in at 88 hours and became the first woman to finish PBP. Madmoiselle Paulette Vassard came in five hours later to become PBP's first female solo rider. (In those days the ACP set the maximum time limit at 96 hours; it would switch, reflecting better the roads and bicycles of the post-World War II era, to the current limit of 90 hours in 1966.)
(The ACP's arch-rival club, the Union des Audax Parisiens, didn't want to be upstaged and also put on a similar event one day after the randonneur PBP for its "always riding as a group" members, but they didn't allow any women or tandems in their ranks at that time. Very much believing in the camaraderie of "all for one, one for all" in their strictly scheduled version of PBP, the big audax peloton intentionally arrives back in Paris together after 85 hours on the road. Thus, it never truly resembled the faster free-paced randonneur version, which is somewhat closer to the unpredictability of a road race. The Union des Audax Française, successor to the UAP, has continued to organize the PBP Audax at five-year intervals since 1951. For many years it had more participants than the randonneur version, but since the 1980s the free-pace version has grown tremendously while the audax event has dwindled to alarming proportions.)
Changes among touristes-routiers and randonneurs aside, 1931 was an epic PBP race, arguably the best of all. Run in wretched weather, it was fought tooth and nail by men of iron. After various breakaway attempts, chases, and counter-attacks, the race ended in a desperate sprint among five exhausted racers on the banked boards of the Buffalo Velodrome in Paris. The worthy winner was the great Australian endurance racer Hubert Opperman, or "Oppy" as he was popularly known. Riding solo and outnumbered by rivals with supporting teammates at PBP, his cycling prowess and never-say-die Aussie toughness thrilled race fans and made him a hero in France and at home.
Not surprisingly, there wasn't a PBP event held in 1941 due to World War II. The sport of cycling was largely on hold across Europe, with a few exceptions here and there such as hollow versions of the one-day Tour of Flanders or Paris-Roubaix races. (Despite a distinct lack of well-trained, high-caliber racing cyclists and proper equipment, some ersatz bicycle races were run as morale boosters to remind those nations vanquished by the Nazis that life was getting back to normal in 1942-44. It didn't work; real cycle racing only resumed in 1946-47 after Germany's defeat.) There was some effort given to organizing a PBP race for 1941, but the inevitable night riding would have violated the strict civilian curfew imposed by the harsh German occupation forces, so the idea was eventually dropped. Alas, in the following three years, Brest suffered immensely at the hands of the American air and land forces since the Germans used the city's excellent harbor as one of their main submarine bases. By September of 1944 eighty percent of Brest lay in total ruin and its citizens faced a long period of reconstruction in the two decades to follow.
A post-war PBP race was promoted in 1948, and the traditional system of using years ending in a "1" was resumed in 1951. As things turned out, that was the last time there was a professional race at PBP. Hard-fought from the start, it was a grand battle despite rain much of the time. However, there were also favorable winds for most of the race; the strong tailwinds from the start in Paris died down just as the peloton reached Brest. Frenchman Maurice Diot arrived back in Paris after only 39 hours on the road. With a pack of chasers hot on their heels, Diot narrowly outsprinted breakaway companion Edouard Muller on the Parc des Princes Velodrome to take the victory—this after gallantly waiting for Muller to get a wheel change following an unlucky puncture on the outskirts of Paris! Diot's sterling example of sportsmanship was a fine way for the last racing version of PBP to end.
Attempts were made to organize PBP races in 1956 and again in 1961, but both events were cancelled for lack of interest among the racers. The long-distance training PBP required was in direct conflict with the very lucrative month-long criterium season that followed each July's Tour de France. Few, if any, riders could afford to dedicate themselves to preparing for the rigors of PBP and then gamble that they would win some prize money; they could earn much more by riding the shorter daily races in cities and villages around France throughout August. The guaranteed appearance money offered them was hard to ignore, plus they got to sleep each night. The PBP race promoters reluctantly gave up and turned over their event to the French cycle-touring federation and gave the event's Great Book of Finishers to the Audax Club Parisien. An era had ended; after 1951 PBP was no longer une course professionelle.
The Randonneuring Years
As interest in PBP among the professional racing world died out in the years following World War II, the amateur versions—both randonneur and audax—would keep PBP very much alive. There have been ACP Paris-Brest-Paris Randonneurs events in 1931, 1948, 1951, 1956, 1961, 1966, 1971, 1975, 1979, 1983, 1987, 1991, 1995, 1999, 2003, 2007, 2011, 2015, and 2019. Well attended for the times, the immediate post-war Paris-Brest-Paris events saw much enthusiasm in a country trying to forget its wartime nightmares and privations. Along with the free-paced, freewheeling randonneur event, the controlled-pace audax version was also very popular, as was club cycling in general throughout France. In fact, the audax PBP often had more participants than the randonneur version until the 1980s. After 1951 the two clubs decided to schedule the event at five-year intervals. Interestingly, the three PBP randonnées of 1948, 1951, and 1956 saw men's tandem teams outrun the solo bike riders and arrive back in Paris first.
If the days of the professionals were over at PBP, sometimes the ACP's randonneur version didn't look too different at the front of the "race" (aside from the compulsory use of fenders and the prohibition against any advertising on clothing). Each edition was hotly contested by dedicated amateurs and they frequently turned in impressive performances. A few bicycle firms continued to support some of these fast randonneurs since sales of a particular brand would improve following a PBP "win". There were many French successes but often by different riders. However, in the modern era two names stand out time after time: Belgian Herman De Munck was at the front of affairs for many years beginning in 1966, while the American Scott Dickson dominated in a similar fashion from 1979 to 1999 without missing a single event. (Though getting on in years, De Munck continued to ride PBP swiftly; he finished the 1999 edition in 56:49.) Clearly, Dickson and De Munck, like so many other hardy anciens and anciennes, truly love PBP despite its rigors. Perhaps 1931 winner Hubert Opperman described the difference between the two kinds of PBP cyclists best when he returned to Paris in 1971 to send off the randonneurs. Oppy told the waiting riders, "I was a professional cyclist. I lived by the bicycle. You fellows are the real cyclists; you live for it." These days, though, PBP as a race is clearly a sideshow to the real PBP of modern times. It is now a timed brevet or randonnée where the vast majority of riders' goal is to make it back to Paris inside the time limit and earn their finisher's medal—not to defeat their fellow randonneurs and randonneuses. Camaraderie, not competition, is the main characteristic among most entrants nowadays.
Following some very lean years in the 1960s (less than 180 riders), the ACP PBP Randonneur grew tremendously under the dedicated leadership of Bob and Suzanne Lepertel. Once entirely a domestic affair, by the 1970s increasing numbers of foreign riders traveled to France to attempt PBP. More French randonneurs took up the challenge too. After 666 starters in 1975, 1,766 were at the next PBP in 1979. The 1980s showed strong growth, and by 1991 there were 2,860 participants for the big Centennial celebration. (The continual growth at PBP has brought some problems since organizing and supporting such an enormous event has clearly over-burdened the ACP, a small bike club with less than 100 active members. The French cycle-touring federation has become more involved helping at PBP in recent years. In 2003 over 2,000 volunteers from regional bike clubs from all around western France helped put on the event; by 2019 the number of bénévoles had grown to 2,500.)
After Charly Miller raced PBP in 1901, seventy long years would pass before the next cyclists from the United States attempted the ride, but neither Clifford Graves nor Ruby Curtis reached the finish in 1971. The second American to finish PBP successfully was Californian Creig Hoyt in 1975. Also finishing at intervals behind Hoyt were Herman Falsetti of Iowa, and randonneuses Catherine Anette Hillan, another Californian, and Harriet Fell of New York. The medals earned by this pioneering foursome in 1975 opened the door for future American randonneurs at PBP. Thirty-five rode PBP in 1979; by 1983 the number had risen to 107. By 1999, 3573 participants from 24 nations—including 400 Americans—took the start at PBP.
A curious tradition for decades, the rival audax and randonneur versions were usually run just one day after the other. In 1971, eight audax riders finished their 85-hour PBP ride on a Sunday afternoon and then started the randonnneur event the very next day at 4 PM! All eight made it back to Paris successfully the second time, so these incredibly audacious riders did two PBPs back-to-back in the space of a week! Since the rivalry between the two clubs was still fairly strong after the bitter split in 1921 (resulting in a long feud over which style of randonneuring produced tougher, more determined riders), one has to wonder if the ACP's subsequent switch to a four-year interval was made to prevent similar stunts from occurring.
The traditional route along the N-12 was still used in the post-war era, but the dangerous increase of motorized traffic often meant the riders were subjected to unsafe road conditions. A speeding motorcyclist hit and killed a PBP randonneur in 1961; in 1966 another rider was killed by a drunken driver. In 1975, two more randonneurs were killed and another crippled when a truck plowed into their pack at night. (Sadder still, one of the dead was a member of the legendary back-to-back group of 1971.) These collisions convinced the ACP it was time to abandon the Great West Road used by all PBPs since 1891 and it developed the more tranquil but hillier rural route contemporary randonneurs are familiar with. The major checkpoint towns along the new inland route became Bellême, Villaines-la-Juhel, Fougères, Tinténiac, Loudéac, Carhaix, and of course, Brest. After using Bellême several times, its control was moved back to Mortagne-au-Perche in 1991. (The audax PBP continues to use a route that tends to mimic the original PBP route more closely—but its big pack, led by motorcycle escorts and followed by support cars, always stay together, which ensures greater safety for its members.)
Along with the significant route change, the randonneur PBP took on much of its modern look with the 1979 event. After using quaint roadside restaurants and hotels as checkpoints since 1891, the current practice of using large school cafeterias was begun to handle the waves of hungry riders. The modern system of staggered starting groups was also initiated that year for similar reasons. There was yet another change in 1979; all entrants, foreign as well as French, now had to do a full Super Randonneur series of brevets (200-300-400-600 km) in the spring before PBP in order to enter. This requirement, more than any other factor, caused the growth of randonneuring beyond the borders of France. Randonneuring organizations started in the United Kingdom, the United States, Canada, Spain, Australia, among others.
With the steady increase of PBP participants in the 1970s one hallowed tradition had to give way to modernity: At some point no more anciens' names were entered into the leather-bound ledger pages of the Great Book of PBP Finishers. Now they are kept on computer-generated lists (and available on-line.) It would be ridiculous to think some ACP officer dutifully sits down to transcribe thousands of names and times by hand every four years. Nonetheless, many randonneurs still mention being "listed in the Great Book" as if it were in use today. It is a nice mental image not everyone is ready to discard, even if no longer true.
The PBP Centennial was celebrated in 1991 by the ACP and the UAF; both events were run simultaneously and it was declared a grand success by all concerned. This was also the time when the two clubs decided to bury the hatchet and relations have been harmonious ever since. As a concession to the ever-growing congestion in the Paris region, the start location was moved to St. Quentin-en-Yvelines, a Parisian suburb near Versailles. Long gone are the days of a civilized mid-morning or afternoon starting time for such a grueling ride. Due to justifiable safety concerns about launching thousands of randonneurs onto the busy roads around Paris, now Sunday afternoon and evening and 5 AM starts on Monday morning are the norm. (Unfortunately, this places an extra hardship on the slower participants, many of whom will suffer from worse sleep-deprivation later in the event.) In 1995, the ACP rules requiring fenders and prohibiting advertising on clothing were dropped, and some of the unique PBP atmosphere was definitely lost.
PBP in the 21st Century
As the 20th century gave way to the 21st, the randonneur PBP continued its pattern of steady growth with entrants from around the globe. It also offered improved rider support along the route. In the 1980s, French randonneurs were about 75% of the field and foreign participants made up the rest. By 2019, those numbers had completely reversed and the French riders totaled slightly less than one-fourth of the participants. With riders from 66 nations, English is now the lingua Franca among the riders at PBP. (Most of the start/finish and checkpoint volunteers speak only French, however, and many participants still struggle to communicate with them much of the time. Many checkpoints try to have a roving translator or two available when possible.)
In modern times the PBP route has remained fairly static since the big change in the 1979. On the return, Nogent-le-Roi was the penultimate control before the finish for many years, but in 2007 it was moved north to Dreux. (Most of the Nogent-le-Roi checkpoint volunteers came from the larger city of Dreux and so the route was changed to reflect that. And Dreux, like Mortagne-au-Perche, was on the original PBP route and this gave things a sense of historic symmetry.) A more noticeable route change came unexpectedly in 2019 after the city of St. Quentin-en-Yvelines decided to stop hosting PBP. The start/finish was moved some distance south to the old royal town of Rambouillet. The vast majority of participants liked this change because they were quickly onto pleasant cycling roads compared to the old start/finish location, but Rambouillet lacks enough lodgings and restaurants for such a large event. Many riders have to use the train before and after the event, which adds another layer of complexity to participating in PBP.
As always, there are still plenty of fast riders out to "do a time" at PBP but the ACP gradually lessened the competitive aspects of their event after the turn of the century. PBP no longer publishes finishers by arrival time; now they are arranged alphabetically. There is no longer a leading car showing the way for the fastest riders; now they have to follow the route arrows like everyone else. And there are no longer trophies for the fastest male and female riders. (As before, there are still trophies for the clubs and countries with the most entrants, most finishers from one club, youngest finisher, oldest finisher, etc.)
A look at the numbers of participants in the most recent events shows the continuous growth at the randonneur PBP: 2003 had 4,069 starters; 2007 saw 5,160; there were 5,002 at 2011; 2015 had 5,870; and 2019 saw 6,418 starters. (All these events had larger numbers of entrants than the previous edition, but it is normal that there are a few hundred riders who decide to not take the start and this includes the 2011 variation.) Most of the events from 1987 forward had an approximate DNF rate of around 17-20%, somewhat higher than the notable 1979 and 1983 events which saw DNF rates of only 10-11%.
The 2007 PBP stands out for having atrocious weather for most of the ride and many of the survivors arrived back in St. Quentin-en-Yvelines in a physical state that was alarming. The 2007 DNF rate shot up to about 30% but considering the abysmal weather conditions the riders endured, that seems rather low in retrospect. In a sport that celebrates determination and audacity, the 2007 PBP is legendary. Not surprisingly, any finisher of that epic event receives extra admiration from other randonneurs.
On the other hand, 2019 stands out as the modern PBP event with one of the worst completion rates and this result came as a surprise. That year 28% of the starters failed to make it back to the finish inside their respective time limits. The weather was generally fair during the event but there was a steady headwind outbound to Brest (and sometimes on the return.) More importantly, there were very cold nights throughout the event (but this has been true at other PBPs too.) Valuable lessons learned in previous events seemed to be ignored by too many of the 2019 riders who came unprepared with adequate clothing for the conditions. In older times it wasn't uncommon to see larger saddlebags or handlebar bags in use at PBP and randonneurs usually carried warmer (and bulkier) clothing layers. But with today's minimalist packing approach used by many randonneurs, too many of them sacrificed having enough clothing in order to save weight on their bicycles. Or, as was observed by many PBP veterans, too many of the 2019 riders came physically and/or mentally underprepared for the event's rigors. It was also theorized that some riders may have gotten into the event with unusually easy qualifying brevets. Whatever the reason, a great many riders threw in the towel and became DNFs or arrived outside the time limit (OTL) for their starting group.  The DNF/OTL rate among participants from many Asian countries was especially high. According to the event organizers, the overall DNF/OTL rate for Asia was 61.9%. The next worse was Africa at 33.3% and the Americas had a combined 31.3% DNF/OTL rate. European riders tended to do much better and their collective success rate was along normal lines.
Still, there were many successes at the 2019 PBP. For most riders, it was simply being very determined and earning a finisher's medal and getting their name entered in the Great Book. The oldest of them all was French randonneur Jean Guillot at age 86. French riders Jean-Claude Chabirand, Dominique Lamouller, and Alain Collongues astonished everyone by completing their 12th PBP Randonneur! Behind them seven riders have completed 11, and another seven have completed ten. Among women, Canadian Deirdre Arscott completed her ninth PBP in 2019, with French randonneuse Nicole Chabirand at eight. Five other randonneuses have seven PBP finishes apiece, including American Lois Springsteen. Among American randonneurs, Paul Bacho, Ken Billingsley, Thomas Gee, and Doug Kirby all have eight PBP Randonneur finishes.
In addition to individual successes, the event has improved in other ways. PBP began using electronic rider tracking (in several variations) during the most recent events. The traditional route book and control stamps are still used as a backup in case any of the vital rider data from a control is scrambled or lost (as has happened a few times), but now friends and family back home can keep track of their randonneuse or randonneur's progress during the long ride via an on-line portal. Also, compared to earlier events, the number of cheering spectators along the route has grown and the riders' morale is improved. They encounter more supportive fans nowadays, and more of them are offering food and drink to help the cyclists on their long journey. These impromptu stops, along with finding more stores and cafés staying open beyond normal hours, help them refuel in-between the crowded checkpoints. In addition, most controls now have a service rapide outdoor snack bar in addition to the familiar indoor cafeterias with tables, chairs, and a full menu. Some other villages along the route are setting up organized food stops as well. Compared to earlier times, finding something to eat or drink during PBP is easier now despite the larger number of entrants. Finding a spot to get a few hours' sleep are more numerous too. In the region around the Loudéac and Carhaix checkpoints on the western portion of the PBP route, the Audax Club Parisien has now developed more locations for sleeping and finding some food. These simple sleeping spots might be nothing fancier than a wrestling mat or camping cot in a high school gymnasium, but exhausted randonneurs aren't going to be choosy. Better still, the checkpoint volunteers will awaken the rider so she or he can retake the road without oversleeping. (Sleeping through an alarm clock and getting eliminated is every PBP rider's nightmare.) With the steady increase in participants there are often waiting lines for food and sleep and these things may not feel like an improvement. But compared to earlier editions of PBP—where there was nothing more than a village grocery store that closed at 6 PM or a crowded café to get some food before midnight, and perhaps sleeping rough along the roadside—recent PBPs have offered much more rider support than in the past.
After the turn of the century the ACP revamped the familiar mass starts of the 80-hour, 84-hour, and 90-hour groups and they began sending off numerous, smaller starting waves containing several hundred riders at 15-minute intervals. This seems to have made several improvements. It ended some truly enormous rider packs' impact on other road users; it lessened the crowds and long lines at the early controls; and it eliminated the shoving and crowding by fast riders trying to get to the front of their respective groups before the gun went off. The new system of riders choosing their own starting wave introduced in 2015 has probably been the best change of all—no longer did riders have to wait for hours to line up under a hot sun or cold rain and then leave in one gigantic group that invariably swamped the controls; now they could show up just 15 minutes before their wave's departure and be on their way.
But the modern PBP has had another problem to worry about, namely its popularity. By the time the planning began for the 2011 event it was clear the continual growth of PBP had to be curtailed. Along with the ever-increasing workload on the organizers and other volunteers, some civic authorities in western France were beginning to balk at issuing road-use permits for the huge event; they worried the extra traffic in various towns and cities along the route had become a problem. As much as the cyclists themselves it was the vast armada of camper-vans, RVs, and other vehicles used by many participants for personal support that were clogging the roads. (PBP regulations require that riders' support cars follow a designated route that is not on the cyclists' route. Most of the problems come in the control towns.) In response the ACP instituted a new entry system of "pre-registration" that discouraged cyclists not serious about riding the event, but this also effectively meant two years of required randonneuring for all entrants instead of one. On the plus side, there is a tangible benefit to the new 2-year system of entry registration; the longer one's event in the year before PBP, the more choice one has for selecting their starting wave. (1000 km/1200 km finishers get first choice; 600 km finishers get second choice; 400 km is third; and so on…)
Looking forward, managing the continued popularity of PBP is likely the biggest challenge facing the event. Along with the small size of the organizing club and its aging membership, having thousands of sleep-deprived bicyclists on the open road is not something local authorities want to deal with. (Hospital admissions in cities along the route definitely see an increase during PBP.) Obtaining road-use permits will remain a concern, as will dealing with so many private support vehicles. As finally happened in 2019, it is likely future events will see a firm cap placed on the number of its participants. And given the crowds of riders at the checkpoints, this is probably a good thing—at least for those able to get entered successfully. That PBP is held only once every four years makes the wait terribly painful for those inevitable riders who will be "hoping to do it next time."
In August of 2023 the Audax Club Parisien will put on its 20th edition of Paris-Brest-Paris Randonneur. Add those to the seven racing PBP events and one has a glorious history of determined cyclists daring themselves to get from Paris to Brest and back as quickly as possible. To be sure, there have been some changes at PBP over the years, but that should not be too surprising—our modern world has changed a lot since 1891 too. Nonetheless, the challenges that confront today's randonneurs at PBP remain timeless, hence its extraordinary appeal and legendary status. What this short space doesn't allow are the countless stories of bravery, heartbreak, and triumph that have come from the racers and randonneurs in each edition of Paris-Brest-Paris. This rich tapestry of human endeavor is what gives PBP its enduring mystique. Make no mistake: PBP is definitely a brutal bike ride and not for the timid. But the heroic virtues commonly found among the participants, both past and present, are eloquent testimony to the unconquerable human spirit. Vive le Paris-Brest-Paris Randonneur!
Sources: Résultats Plaquettes published by the Audax Club Parisien following the 1979, 1983, 1987, 1991, 1995, 1999, 2003, 2007, 2011, 2015, and 2019 PBP events; Audax Club Parisien Newsletter, Jan-Feb 1914; Audax Club Parisien Newsletter, Sept-Oct 1951; Audax Club Parisien Newsletter, Oct-Nov-Dec 1961; Audax Club Parisien, Fête Ses 75 Ans 1904-1979; the Journal of the International Randonneurs, 1989 and 1990 editions; Coups de Pedals, Hors Série No. 2 (history of PBP races), Belgium, 1991; History of PBP: Racing and Touring by Robert Lepertel, Audax Club Parisien, 1986; A Brief History of the ACP by Robert Lepertel, Audax Club Parisien, 1996; Audax-UK Handbook, Year 2000; Paris-Brest et Retour by Bernard Déon, 1997; Old Roads and New by J. B. Wadley, 1971; 14e Paris-Brest-Paris: L'Epopée Fantastique, Cyclo-Passion magazine, October, 1999; Charles Terront & Paris-Brest-Paris by Andrew Ritchie, On The Wheel magazine, issues #10-12, 1999; La Saga du Tour de France by Serge Laget, 1990; Cyclotourisme magazine, Hors Série, No. 395 (1991 PBP special issue), France; Géants de la Route by Jean Durry; 1973.
©Bill Bryant 1999, 2003, 2021