By Jennifer Wise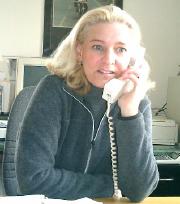 The American Randonneur community lost a pioneer. Jim Konski, founder of International Randonneurs, died in Syracuse, NY, on December 17 at the age of 85. He was among the first Americans to discover the lure of randonneuring. He founded International Randonneurs to help spread the word about this french-based style of non-competitive long- distance cycling. He brought awareness of Paris-Brest-Paris to this country and organized large numbers of American randonneurs to PBP in the eighties and nineties. International Randonneurs is gone. Now, Jim Konski is gone, but in Randonneurs USA his legacy lives on.
The RUSA Board of Directors met January 7 and reelected the existing officers to their respective positions. We welcome Mark Thomas, Dan Driscoll and Donn King to the volunteer list and the masthead. We'd like to thank the Davis Bike Club for their generous donation this year and for their uninterrupted loyalty as the Patron Bike Club of RUSA.
I flipped my calendar to 2003 and could have sworn I heard a rumbling in the distance. Did you hear it? It was like putting my ear to the railroad track, hearing the train coming and feeling the vibration. I can't see it, but I can hear it and feel it. PBP is eight months away, but I can feel it coming. There is a distant drumming and a faint humming in the air.
Randonneurs USA will spend the next several months helping prepare members for the PBP experience, which is both exhilarating and exhausting. Start by reading Bill Bryant's "Getting Ready for PBP" article. Check out the results of the 1999 PBP Survey, the responses will enlighten and educate you. Visit the PBP page on the RUSA website periodically for news bulletins as PBP approaches.
You can adjust little things in your lifestyle now so landing in France will not be such a big shock. Turn your digital clocks and watches to 24- hour time. Start thinking in kilometers. Convert the temperature to Celsius. Listen to French language tapes in the car. Watch movies in French with English subtitles. Do a 600k brevet that starts at 8pm or 10pm to simulate the 20:00 and 22:00 PBP start times, which thrust riders into immediate darkness. Make a list of the foods and drinks that don't make you queasy on the bike. Cut back on caffeine so that at PBP coffee will really keep you awake.
Attend a PBP orientation seminar to discuss PBP off the bike elements such as foreign currency, jet-lag, sleep deprivation, language barriers, the minitel, unisex bathrooms, bike-inspection, and overall anticipation of the event. Experienced randonneurs can often offer a tidbit of information that will ease your pre-PBP jitters. Finishing PBP will be a pivotal moment in your life. Keep your eyes on the prize and stay focused.
Check the label on this newsletter. If the expiration date is Dec 2002, you need to renew your RUSA membership. If you plan on going to PBP, you need to be a RUSA member in good standing. I'm going to PBP to have some purée de pommes de terre (mashed potatoes) at Loudeác. American comfort food with a french blessing. Worth the trip.