by Robert Gray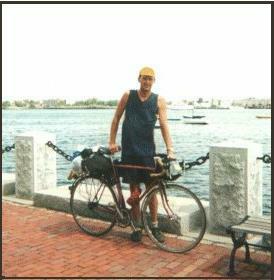 My plane touched down at Vancouver airport on the evening of 20th July after a long day travelling from London via New York then St. Louis. I took the bike for a spin around the vicinity of the airport and the island of Richmond, finding a McDonalds to get something to eat, before returning to the airport to add Vancouver to the ever­growing list of international airports I've spent the night in. The next day was a Sunday so I rode into Vancouver, around its nearly deserted streets and located the downtown hostel in which Chris Wilby, an English colleague also over for the Rocky Mountain 1200, had reserved us a room. I spent an enjoyable day cycling along the sea­wall route around Stanley Park, busy with walkers and skaters, to the beaches which were packed with people. I rode to the airport to meet Chris from his flight but he didn't turn up so I went back to the hostel. Chris had missed his connecting flight and would catch up with me later.
Next day was the first real day of the tour. Beginning at Vancouver harbour I would ride 400km or so to the start of the RM1200 in Kamloops over two days. Starting on the wrong foot I tried to follow my route from yesterday around the park, got lost and ended up on the suspension bridge connecting North and South Vancouver. I got back on track by cycling the wrong way around the one­way seawall path to the city but, being a Monday morning, there were few people to shout at me. Route 7 was followed out of town, through Port Coquitlam and Mission. At Agassiz I began to suffer heat stroke as the temperature was around 40 C. I flaked out on a bench under a tree until I felt well enough to continue. Joining highway 1, the Trans­Canada, at Hope I headed north into the ap­ proaching dusk. The road began to rise through thick woods.
Approaching Spuzzum it was getting quite dark when I saw a large bear cross the road a couple of hundred yards ahead. From then on, on every climb when my speed dropped, I was worried a bear was coming behind me. I stopped around 11 o'clock at a small town called Boston Bar at a "Husky" gas station. Next door was a motel so I took a room for 40 dollars. At breakfast I meet Giovanni and his wife, Joanna with a group of six others from Italy who were bound for Kamloops to ride the Rockies too. My Italian was no better than their English but we had a great day's ride together through the Fraser canyon, even though it was very hot at over 40 C. Arriving at the hostel in the late afternoon I find Greg Zaborac there, a friend I'd met last year on London­Edinburgh­London.
Wednesday was spent meeting other riders, eating and preparing bikes to convince the bike inspectors that they would last the 1200km. I caught up with Chris and met Liz Crotty and Matt Settle from South Carolina. Chris grabbed a bit of sleep on the grass in front of the hostel but I couldn't sleep through excitement about the ride. The time for the bike check arrived, the sun quickly disappeared and I set off with the 10 am starters.
I was at the back as the route left town and headed onto open road. After a while I moved though bunches of riders, finding the pack had split up and begun to stretch out as people found their paces. The first control at Clearwater was reached in the misty early hours then on into the morning light we discover that the semi­desert of the Kamloops area has given way to hillsides forested with pine and tall, narrow birch. Lack of sleep catches up with me here and my eyes close briefly and I lose my front wheel in the soft gravel of the shoulder and fall off. I pick myself up, looking around to make sure no one's seen me and turn on my radio to keep me awake. Reaching the control at Blue River I dive inside the Husky restaurant and eat a good cooked breakfast. The route continued north and as it did so the scenery became more magnificent. I began yo­yo­ing with another rider. I liked her steady, unhurried pedaling style and, realizing our speed was about the same, we started chatting. She was called Charlene and was a Canadian from Manitoba riding her first 1200km. The day grew hotter and we stopped at a gas station to pick up more fluid and saw all the Italians there. The road was long and straight all the way to the next control at Tete Jaune Cache. Ex­pat and control helper, Harold Bridge was there with a fresh pot of tea. We carried on towards the next control at Jasper seeing on the way mount Robson, highest peak in Canada, climbing the 1130m Yellowhead pass and crossing into Alberta in the Jasper national park in the early evening. We decided to make Jasper our sleep control, as many other riders had, and left before sun­up after about four hours sleep.
Around dawn on the road to the Icefields parkway it started raining. A few others were with us at this time including Foster, from Minneapolis, who had started in the 84 hour group, some six hours after us. Charlene and I saw a little black bear just by the side of the road munching on a small tree. We stopped for shelter in a café and waited for it to stop raining. It soon brightened up. Next came the steepest climb of the ride, the 2035m Sunwapta pass. Charlene knew this climb and gave me good warning to prepare for a long, hard slog. I attacked the hill as it started rising but had not anticipated just how long it was. By the time I reached the summit I had slowed to a crawl and was gasping for air. I got fed up waiting at the top for Charlene to appear and went on to the control at the Icefields centre. Charlene eventually turned up and said she had to walk up the hill in her socks, which can't have been very nice. The scenery on the other side of the pass was absolutely breathtaking. We crossed the Saskatchewan River and stopped near the top of the next pass for a picnic with incredible views across the treetops. Bow pass, at 2065m took us over the highest point of the route and down the long descent to the Lake Louise control. The next leg took us to Golden for our second sleep­stop where Charlene went to a motel booked by her father while I slept at the control. We arranged to meet early in the morning when, with Chris, the three of us set off.
Even though I'd had a good sleep at Golden it still took me ages to get going in the morning. On the long climb of Roger's pass I started to wake up, going through lots of tunnels called avalanche sheds. We stopped at the top for a rest at the gas station before the descent to Revelstoke. Harold was waiting at the control with another pot of tea then we continued, through the heat of midday. I changed my shorts for a pair of baggy swimming trunks I'd picked up in Jasper in my bag­drop. I don't usually bother with bag­drops as I never know what to put in them but I was glad of a change of shorts. We rode on to Salmon Arm with Grant MacLeod from Saskatchewan. Charlene was having real trouble with her Achilles tendons now and used an ice pack on them at the control. We all left after dark and were joined shortly by Phil, picking our way through lanes in the darkness to the control at Vernon. Grant and Phil carried on after a short stop but the rest of us needed sleep. Charlene and Chris both took bunks while I must have nodded off in a chair. I was awoken by a loud bang. It was the sound of my head hitting the wall as I fell off the chair. I opened my eyes and saw all these hands grabbing at me as the control helpers tried to pick me up. I wondered what was happening. I said later they should have left me on the floor but they said I was blocking the door to the bathroom. The last leg to Kamloops was spent slowly rolling along trying to keep my eyes open. We made several stops to rest on this final stretch which, like the last section on any long ride, seemed to take forever. Charlene and I finished in good time together what I consider the most scenic 1200km ranndonée there is.
Back at the hostel after the post ride party there was much discussion between Greg, Foster and myself about the next part of my trip. Namely, which route to take across Canada and the US to get to Boston in time for the start of the BMB in three weeks and three days time. I always have a rough route outlined for my tours and had planned on taking highway 1 as far as Medicine Hat then route 2 across the states. Foster warned me that Montana and North Dakota are very empty and since I would be travelling light I took his advice and would avoid this route. I find there really is no substitute for local knowledge and am always prepared to alter a planned route on advice. Several suggestions had been made. Grant suggested highway 3, the "crows nest highway" but I heard this was very hilly and besides it would mean quite a detour south to join it. Don Hollingshead, the ride photographer suggested highway 1, the Trans Canada, saying I could take highway 9 to the north after Calgary. He offered to put me up at his place in Calgary if I needed a place to stay too. Highway 1 looked the most viable route and the most direct. Pete MacAdams, a recumbent rider from Manitoba had advised against using highway 1 after Winnipeg as it gets narrow, hilly and busy around the north shore of Lake Superior. Pete also offered me some digs at his place if I was passing.
So it looked like highway 1 as far as Winnipeg then south into the states. I would leave in the morning. There were a few words of encouragement from my new friends, Kent Peterson, the only other guy riding fixed wheel on the Rockies, thought it was a great idea. Foster said, "You poor boy. What crime did you commit to deserve this?" Matt was a little more encouraging. He had cycled across America before and said, "Yeah, I've often thought about doing the Rockies, riding across country and doing the BMB." Liz and Matt bought me breakfast before I set off. I had flipped the rear wheel of my bike over from fixed to single speed freewheel. I use a double­sided hub for this purpose because, as much as I love fixed, touring on a single free has its advantages. It not only gives your legs a rest as you can stop pedaling, it also gives the bike a rest since the chain isn't moving around all the time. Also, a laden bike, even lightly laden is sometimes difficult to get down a long, steep descent on fixed.
So, goodbyes were bid to my friends and off I went, back across the Rockies, the reverse of the route I had taken just a day or so before. It felt strange and quite lonely for the first few days, riding alone the roads I had ridden in the company of friends. Through Salmon Arm, sticking to highway 1, I reach Revelstoke just after nightfall. Weariness sets in climbing Roger's pass so I grab a couple of hour's sleep under a picnic table by the roadside. I'm awake before dawn but still tired so I stop twice more on the way up the pass, eventually finding a roof over my head in the shape of a roadside toilet. I fall asleep pondering the concept of bear­proof toilets. An hour later a man opens the door and is quite startled to see me dozing inside with my bike. "Time to get going", I think and leave.
It rains hard as I reach the summit of Roger's pass and the descent down the other side through the avalanche sheds is scary. I take shelter from both the rain and the traffic halfway down in an information booth where I meet a couple cycling to Calgary to see their daughter. The rain gives way to sunshine and we continue to Golden. I stop here for dinner at "Humpties" restaurant while the couple seek out digs for the night. There is still daylight left so I continue up the road. I get to Kicking Horse pass when it gets dark and starts throwing it down with rain and I'm drenched by the time I get to Lake Louise late at night. The beautiful youth hostel here is full so I have to carry on towards Banff. The road is fairly flat all the way to Banff and I get there by early morning after a restless night spent in another bear­proof toilet wrapped in a damp poncho, legs cramping and waking me up. Notice the drop in temperature in this part of the mountains. I have a good breakfast in Banff then phone my folks at home. (I phone home once a week to let them know I'm alright, I think my mum worries about me.) The radio tells me the early morning temperature in Banff is five degrees.
About 30km east of Banff, at Canmore, the mountains are left behind. There is no descent, you just leave them behind, quite suddenly, as if emerging through a doorway into a different land. This different land is the Great Plains, wide, open and rolling. Parts of this undulating landscape are on the same elevation as some of the mountain passes. The wind is straight in my face. I hope that it won't last. Highway 1 gets progressively busier as I approach Calgary. I get there in the afternoon and phone Don. He gives me excellent directions to his house but I get confused when I reach his street. I can never work out these street numbers which are either north west or south west or something, I think people who live here must have built in compasses. I have to phone him again from the next street before I find him. I get a shower and clothes washed at Don's and spend the night in luxury for a change. Don cycles with me along the Bow River next morning till I rejoin the highway and bid him farewell.
The road to Medicine Hat is long, straight and flat. There are almost no trees on the plains, so all that's between sky and ground is me. This place would be an agoraphobic's nightmare. At night I'm riding along and I see some lights ahead in the distance, "good", I think, "maybe a town or gas station at least". I keep on riding towards them and for several minutes they don't appear to be getting any nearer. On I ride until, all of a sudden, the lights start breaking up. They are moving. Then I realize what they are, car headlights coming towards me on the opposite carriageway. The road is so straight I can see traffic literally miles away. The good thing, of course, is that they can see me too. My bikelights should also be visible from a good distance. I sleep by the roadside sheltered from view by a sign.
I decide to buy a sleeping bag in Medicine Hat. It can get chilly on the prairies at night and my rain­cape and space­blanket aren't keeping me warm enough for a cozy sleep, I find my legs cramp up. I head for the local Wal Mart. This is my first experience with this giant superstore but I locate the camping section and buy the smallest sleeping bag they sell for 39 dollars. I keep it wrapped in its Wal Mart carrier bag sporting the slogan, "We Sell... For Less". I reckon," We Sell... Everything" would be more apt. Bungeed to my saddlebag it's added about three pounds to the bike but I think it's worth the extra weight for a good night's sleep.
A little farther along the highway I see another cyclist up ahead. I slowly gain on him and notice he's pulling a one­ wheel trailer that weaves side to side as he struggles into the headwind. I pull alongside and we start chatting. His name is Sylvain, a French Canadian from Quebec who is riding from Vancouver to Montreal. He has two front panniers full of food and I graciously offer to eat the contents of one of them. We roll along together over the Alberta, Saskatchewan border, stopping now and then to refuel. He makes some peanut butter sandwiches and I share the fruit I bought from the stall in Wal Mart's car park. Before dusk we stop for the night behind a tourist information building. Sylvain pitches his tent and I crawl into my new bed. A storm brews and it starts raining so I borrow Sylvain's tarp which keeps me dry. Mental note, buy a tarp. We get a tailwind the next morning for a hour or so in the aftermath of the storm then the wind swings back into our faces. We later learned that in British Columbia and Western Alberta they were having snow blizzards. The temperature must have continued to fall in the mountains and the rain turned to snow. I was lucky I made out of the mountains just in time. The road gradually creeps north east through Gull Lake and Swift Current and quite a lot is single carriageway. Sometimes you hear a lot of hooting, if a pickup truck goes past hooting and lights flashing it's best to get right off the road because it will be followed by someone moving house, literally, and a house on the back of a truck overhangs the hard shoulder. We stop for a rest in Swift Current where I marvel at all the tractor dealers, there must have been dozens, there was even one called "Jay Dee's" that sold John Deeres. I bought a post card of the place and sent it to my workmates, I wrote," Havin' fun in Saskatchewan" on the back, mainly because it rhymed.
Sylvain and I hacked into the Saskatchewan headwind, his legs whirring around in low gear, mine slowly grinding around. He would often comment on how light I was travelling saying, "Next time I carry less things." I would reply, "Next time I carry more things. Let's swap bikes now." The road was back to dual carriageway now. Parts of the Trans­Canada have a really wide central reservation, sometimes a quarter of a mile wide so it often looks like two separate highways, one going east and one going west. The Canadian Pacific Railway, runs parallel most of the way and when the huge freight trains roll past they sound their horn and an arm appears out of the driver's window to wave at us. These trains were one of the highlights of the whole trip across. In the mountains they move really slowly, their brakes grating all the while, the sound of metal on metal coupled with the haunting sound of their horn, changing in tone as it echoes around the hills. On the prairies you can see the whole length of these trains, they are the biggest things I've ever seen moving, a mile in length. On a particular stretch of road it was straight as an arrow and gradually rose up towards one of the massive grain stores commonly seen by the road, it was like riding along an airstrip. On another stretch, the road in the distance kept turning to the right, we seemed to be riding around a perpetual corner. A train was coming round this eternal bend towards us and there were no cars around at the time. Sylvain commented it was like being on an enormous toy train set and I saw what he meant. You often see blown tyres by the side of the road, I suspected from the trucks and my suspicions were confirmed later that evening. We heard a loud bang come from a truck travelling the other way and saw one of its tyres peal off and fly into the middle of the road, the driver kept going as if nothing had happened, well, he has another seventeen tyres left.
We camp somewhere near Ernfold in a roadside rest area, having covered about 200 km, which wasn't bad considering the headwind. The next day we press on to Moose Jaw and I buy my tarp from Canadian Tyre. We've covered about 150 km today into a hard headwind and Sylvain decides to stop here, mainly because he wants to relax back into his own touring pace. After three hard days ride together, we part company and again I'm on my own and head off into the evening.
About 30 km later and half way on the road to Regina the road gets really flat. Both Sylvain and I had always believed the prairies to be flat. Everyone had assured us, "Oh, you'll be alright on the prairies, its all flat, there'll be a tailwind from the west and you'll fly along.". This was not the case. Most of Saskatchewan is a high, rolling plateau and Sylvain would often shout at the top of his voice, "It's not flat!". After Moose Jaw, though, it is flat. I could see Regina from here and there was a storm raging over it. I decide to pull off the road for the night, it was getting near dusk anyway. I wrap myself up in my bag and tarp under a small clump of trees set back about 30 meters from the highway down an embankment and go to sleep.
I'm woken in the early hours of the morning by the sound of car doors banging. I peek out to see a car speeding away with a torch light flashing inside it. Thinking no more of it I fall asleep again. At three in the morning I'm woken again by voices saying, "Hey buddy, hey hello!" I see two torch beams trained on me and realise right away it's two policemen. As I stir one of them says, "We thought we'd found a body." I said, "You have." Apparently the car I'd seen earlier had pulled up, by chance, just up from where I slept, the driver shone his torch at the trees and saw me wrapped up in my tarp and, thinking someone had dumped a corpse, reported it to the police. Anyway, they just checked my ID to see I wasn't on the run and as I wasn't doing anything illegal they left me to go back to sleep. They were relieved to find me alive and so was I.
Past Regina the road goes back to single carriageway near Indian Head. I make it to Whitewood by ten o'clock at night and stop at a busy truckstop to order a big cooked meal. (Truckstops are a source of good food for the cycletourist and with the Trans­Canada being a major truck route I was never too far from one. I tried to stop for a cooked meal early in the day for breakfast and then again in the evening, sustaining myself on peanut butter sandwiches, biscuits and chocolate through the day, with fresh fruit and yoghurt if I could get it. I'd drink milk and put ice tea or diet Pepsi in my bottle.) As I tuck into my dinner an old gent joins me at the table. He'd seen me arrive on my bike and asks me if I'm riding across country. His face lights up when I tell him I am and we chat. His name is John and he is the minister of the local church and he says I can sleep there tonight if I want. I accept his kind offer and he lets me into the church where there is a room by the side of the chapel with a couch to sleep on.
I rode up and down the road along the border late into the night looking for shelter from the mossies. An electric storm played out to my left and another to my right over in the states. In the blackness of the woods around me I saw tiny pinpricks of light that I thought at first were eyes. Then I realised they were fireflies and combined with the flashes of lightening from the storms created quite a light show.
It was midnight as I wheeled my bike to the border dressed in my poncho to escape the rain and the mossies. The border guards wondered where I'd come from, "Where do you live?", came the standard border guard greeting. They scrutinised my passport. Things went a bit wrong when we discovered I'd lost my green card. They told me I would have to buy another for six dollars. Unfortunately I didn't have any US dollars. At learning this they lost patience with me and searched all my things before ripping off my Canadian dollars and letting me go. I never found anywhere that night and sat in an all night gas station in Warrode, drinking coffee and making peanut butter and jam sandwiches, until it stopped raining the following morning.
So on into Minnesota where, judging by the people using the gas station last night, dungarees and mullet haircuts are in fashion. I take route 11 along terrible road surfaces running alongside the Rainy River bordering Minnesota and Ontario. Then heading southeast at International Falls on highway 53 through Voyageur's national park. This It was an enjoyable stretch of road and it was good to be riding through trees after the prairies which, although scenic in their own way, can be a bit Zen at times. I camp behind a Jehovah's Witness Kingdom Hall near Cook. The rain wakes me up at four am and I hastily pack up my things. I see a couple of nimble deer as I set off again. The next day the 53 gets busy towards Duluth. I cross the bridge on the interstate seeing Lake Superior for the first time. Just outside Duluth I catch two more cycletourists. Lenny and Bob are riding around Lake Superior which, I learn, is 1100 miles around by road, has a coast of 1400 miles and contains ten percent of the world's fresh water. Lenny and Bob stop at a motel near Iron River while I continue.
A little further on I check my rear tyre as I'd not paid it much attention since the prairies, where I pulled an inch long piece of metal out and was amazed when it stayed up. Now, though, the tyre looked worse for wear. The rubber was as thin as cigarette paper and was pealing away in a line down the centre. I decide to carry on until it falls apart like the truckers do. I stop the night at a motel in Ashland, right on the lakeshore. My rear tyre expires about 50 miles later the next day. I take the front tyre off and put it on the rear and put the spare folder on the front. I'd just met a retired couple from New York travelling in their RV who gave me some water. The lady offered me some ice from the freezer to go with the water. This was an opportunity to have a look in a RV not to be missed. There was fridge, freezer, sink, everything, like a house. Theirs was a small RV though, in comparison to the many I'd seen towing cars behind. It must be a popular thing to retire and buy a camper van the size of a large bus, hitch up the family saloon and go driving around the country.
I buy a new folding tyre in the next town then miss a turn and ride 100 miles down the wrong road. I didn't realise at the time but remember wondering where all the traffic suddenly disappeared. I was supposed to go on Highway 28 but stayed on the 2. It was a good road, though, through the forests of the Ottawa national park, with rolling hills, I had great fun. I was all the way to Crystal Falls around dusk when I discovered my error. To think I'd been peeking through the trees on my left now and then, hoping to catch a glimpse of Lake Superior, when all the time it was about eighty miles away. The only way to avoid any more extra miles was to continue to Sagola then head north on the 95 to join the 28 near Ishpeming then east to Marquette. I would have to do this over night to make up time. I got as far as Republic before finding shelter and sleep on a bench inside a locker room next to a playground.
It rained in the morning so I was glad of the roof. The next day I head across the Upper Peninsula through heavy rain spoiling any view I might see of Lake Superior. I put the hammer down on this rolling, fast stretch of the Upper Peninsula, trying to get as near to the border as I could but as night fell it started raining heavy again and I sought refuge in a motel in Strongs for 20 dollars, 30 miles from Sault Ste.Marie, or the "Soo" as it is called. The road surfaces across the Upper Peninsula were often terrible. Due to the extremes of temperature in summer and winter the roads have an expansion gap about every ten yards so you get a DA­DUM, DA­DUM, DA­DUM as you ride along. After a few days this starts to get you down a bit.
In the light of the morning I see a family of raccoons playing in the road. I'm in the forest of the Hiawatha National Park now but the road soon leaves the trees as it approaches the Soo. I take a back road in to avoid the interstate but then find myself on it for a mile when I follow the bridge to Canada sign. Back in Canada I meet a couple riding mountain bikes, towing one­wheel trailers from Seattle to Maine. They were on their first road trip, doing five hours a day and had ridden across on highway 2, the route I would have taken had I carried more gear. We stopped at a gas station and I went into the restaurant next door where there was an all­you­can­ eat Italian buffet and stuffed myself with pasta and meatballs. This set me up for the longest day of the tour. By the end of the day, well about one in the morning, I had covered 313 km, just shy of 200 miles. There were many lakes near the road and at night this caused patches of thick mist and pockets of chill air. The only shelter I could find to sleep under was a wooden sign by the roadside just before Nairn Centre.
As I was looking for somewhere to stop my leg started to hurt. I was lucky the next morning. Just after setting off I met cycletourist, John Angle from Southern California. He was riding across from Vancouver to Maine, travelling light and stopping in motels. He had started on the crow's nest, highway 3 and told me there was a Dutch guy riding across, aiming to do it in three weeks. He gave me route advice to avoid Ottawa, which I noted down. On through Sudbury, where I bought some painkillers for my leg, to North Bay by evening. I found a shed by the road near Rutherglen to sleep in. It rained heavy the next morning so again I was lucky to have a roof in wet weather. Breakfast was in a restaurant 100 yards downhill from the shed. Sometimes it is like this with touring, everything works out great.
My only problem at this point was my leg. I had damaged the muscle next to my right knee and was in pain all the time, even taking ibuprofen every four hours. There was five days left to reach Boston and I know it's going to be a struggle. I aimed to get to Armprior.. Stopped at a busy truckstop in Pembroke to refuel and shortly after dark my front light bracket snapped and had to use my battery light the rest of the night. I stopped just short of Armprior and camped under another wooden sign in the corner of a field.
I left the highway the next day, heading south Smith's Falls. Stopped at a work­ shop in the first town I saw where an old mechanic drilled my lamp bracket making it usable again. This was a pretty road with fields of yellow and purple flowers alongside. I was seeing more of the real towns now where people live, away from the main highway with its gas stations and truck parks, which had become so familiar to me over the previous two weeks. The bike was in need of it's chain cleaning so I stopped at a gas station somewhere on the 43 and serviced the whole drive train, re­greasing the rear axle bearings. The only maintenance I'd done so far was to oil the chain a couple of times. I carried on into the evening past farmlands of corn and small farming villages with their high apex barns painted in the obligatory red that all barns throughout Canada and America seem to be painted in. I wasn't sure if it is the law or custom to paint your barn red or if red paint is simply cheaper.
Before reaching the town of Cornwall late at night I tried sleeping but was bothered by the mossies so decided to make another midnight crossing into the states, over the double bridge spanning the St. Lawrence Seaway. I braced myself for another grilling at the border but the guard, puffing away on a huge cigar, waved me through telling me I was now on an Indian Reservation. I was now in New York State. I got a room in a motel called "Bear's Den" for 20 dollars. I would often be approached by people who, seeing the bike, would ask me what I was doing, how far I'd come or where I was going. Some would simply assume I was riding across country by virtue of the fact I was on a bike even though I didn't think I looked as though I was travelling far. Everyone was very interested, though, and I received many kind offers of accommodation by complete strangers, many I had to decline as there was still daylight and miles left to do. Many of the other cyclists I saw on the road all seemed to be doing some big tour. Four had trailers, one I saw in Ontario was heavily laden and had a "Long Bicycle" sign on the back. The rider had tied lots of license plates he'd found to his bike too, so he wasn't too bothered about excess weight. Other cyclists I saw on the road were what I call cycletramps. They didn't ride special bikes or wear special clothes but looked like they had been on the road for years instead of weeks. I saw one on the way to Lake Champlain who had a dog with him.
After the ferry crossing over Lake Champlain from Plattsburgh to Grand Isle I was in Vermont and soon saw a BMB sign painted on the road meaning I was on the BMB route. I avoided the temptation to follow the arrows, as I knew they would take me up every hill between here and Boston. I went through Burlington and Hinesburg, taking a minor road to Vergennes. This road was great. It was a warm, moonlit night where I encountered the first hills I had to walk up on the tour. Although the night sky above was clear, a storm silently played out over the Green Mountains in the distance and I stood and watched as the sky lit up with orange flashes. I camp out of sight behind a second hand furniture store opposite a gas station.
I climb over the Green Mountains national forest the next day on route 7, stopping for breakfast in Rutland, through Bellow's Falls and over the Connecticut River into New Hampshire. Before long I'm in Massachusetts. I ride until after dark, managing to catch a deli open near Troy for a sandwich. I am one day's ride from Boston now and start to feel the journey's end approaching. I feel all sorts of emotions as I think back to the past three weeks on the road. I stop in Fitchburg and sleep behind the church in a little gazebo in which is a large bell. The next day I find I'm nearer Boston than I thought and head straight down the 117. The day starts cloudy and wet but it clears as I near the city and is sunny by the time I've battled through the traffic to reach the harbour by early afternoon. I take a quick photo then look out over the water. The last time I saw the sea was four weeks ago in Vancouver.
I had ridden from there to Kamloops, round the RM1200 km and then to Boston. It had taken three weeks and one day from Kamloops to Boston including a day off in Winnipeg. Today was the 20th August, BMB starts at 4 am on the 22nd giving me another day's rest off the bike. All I have to do now is find the Holiday Inn, Newton. Not as easy as it sounds. I rode out of the city along the Charles River and stopped at a gas station to ask directions to Newton. The guy said, "you're in a car, right?". I said no and he said, "You're walking? You'll never make it, it's far". I asked how far, was it five miles?, he said he thought it was more. I told him I would be alright I had a bike. He kept saying, "It's far, man, it's far". Should I tell him I'd just ridden 3500 miles, another 5 won't matter? I must have asked directions from everyone in Massachusetts, a policeman, man behind post office counter, guy at pharmacy and several people in the street.
I eventually find the hotel and am pleased to find Greg there. He'd decided to put a late entry in for the BMB and would make the Can­Am challenge. Meet some more riders including Roger Leam and John Evans, my friends from England, and Stig Lundgaard, who had been back to Europe to ride another 1200 km between the RM1200 and BMB. John let me room share with him so I had a much­needed shower and brush up before dinner.
Wednesday the 21st was bike check day. During the last week of the ride across I was fending off the pain in my leg with a steady intake of ibuprofen and nursing the sore muscle as much as I could on the bike. There were many times I thought I wasn't going to make it to Boston and other times I thought if I make it to Boston I won't even try BMB. I now figured that if I could get this far coming over the Green Mountains in two days carrying my touring gear and sleeping bag I should manage the BMB, with a struggle. With a day off the bike to rest, a lot of the day was spent preparing machines for the bike check. I thought my bike should pass safely, it had got me here after all. I met two cyclists, Luigi and Chris, a recumbent rider, and we made a trip to the bike shop where I bought two new tyres. I had decided maybe it was best to not ride the BMB on fixed as this would be asking for trouble with a sore leg. My fixed gear size is bigger than my touring freewheel.
However, on the day of the bike check I had a change of heart and flipped the wheel over but found the chain had stretched so much it would no longer accommodate the wheel in the dropouts. Chris kindly drove me back to the bike shop for a new chain. After our little shopping expedition we made it to the check­in with minutes to spare. As I was waiting to have my bike examined I heard a voice saying, "I'm sorry, you can't ride this bike, it has no gears on it." It was my friend George Hanna who had arrived with fellow Central London boys John Barkman and Simon Kolka to put in a fast time on the BMB.
I set off with the the 90 hour starters at 4am. As we headed east from the start, the riders seemed to stick together in fairly large bunches to the first control at Bullard Farm in New Salem. It's always nice to have company on a long ride so I'm riding with my friend Roger from England as we both know from experience we'll ride about the same pace and usually finish within a couple of hours of each other. BMB has a pretty tough reputation as far as hilly terrain and severe climbs go. Giovanni had told me the ride is very "strong" and this first section had a few stiff climbs that made me wonder about what was to come. I got this far without too much pain from my leg but continued to take ibuprofen and L­glutamine aminos for the muscles, which Luigi had recommended.
The route meandered north on rolling roads through lush green forests and small New England towns with their characteristic wooden houses that look as though they are from a Mark Twain story. After a short stop at the second control at Brattleboro we head into the Green Mountains National Forest with the undulations increasing. It soon starts raining enough to don our waterproofs so each climb is a very warm affair. The third control at Ludlow is reached by going over the first of the major climbs.
As we start the ascent Pierce, the ride mechanic, leans out of his car and informs us that it's two miles to the top. If you are an optimist this is welcome news, I wasn't feeling very optimistic at the time though. Over the top and a screaming fast descent or it would have been if the road were dry, down to the control where it felt good to get under cover and wring your socks out. We set off in the growing dark along road surfaces cracked like alligator skin. The rain was still persisting but the night was so warm it was comfortable to go without waterproofs. In my BMB starter kit was a long sleeve BMB jersey. I thought Jennifer had given me a long sleeved one just because I'm English. Later in the mountains when it got cold I was glad of those sleeves. Now, though, it was warm. A sign on a building as we climbed up towards Killington read the temperature at 70 degrees, and this was eleven o'clock at night. Soon we were climbing the dreaded Middlebury Gap. Dreaded because I'd heard so many horror stories about it throughout the day that the climb loomed over me in my mind like some Goliath. I was glad it was dark so I couldn't see this terrible giant as I climbed it. It beat me as I got off and walked the final few yards to the summit. It seemed to take forever to reach the bottom as I twiddled down the twisty descent on the other side, finally reaching the Middlebury control and our first sleep­stop at half past one.
We left the comfort of the Middlebury control just before dawn to ride the longest leg to Rouses Point. I begin to recognise places that I passed through on the way over, seen in daylight now. Like Hinesburg, where I stopped for a pizza at the "Good Times" café late one evening, before riding on a bit of the old BMB route. We hit Burlington in the rush hour, the route taking us around the town instead of through it. Over the interstate and onto the flatter road through Hero and Grand Isle alongside Lake Champlain, the day grows warm and sunny and we see the first of the riders in the lead going south.
On my way over I had been on this road when it was a Sunday afternoon and the traffic was heavy with cars towing speedboats home after a day on the lake. We arrive at Rouses Point at half past twelve and stop for an hour's lunch, enjoying the marvellous food on offer. Roger thought I was going to cause an international incident when I didn't stop at the border. Having crossed the Canadian, American border three times on this trip already, I was expecting to pass a US post before seeing the Canadian guard post. The US post was on the other carriageway. I thought I knew what I was doing, but the guard had to shout for me to stop.
There is one lump to climb over before you get to the turn at Huntingdon and you can see the climb for miles on the straight road before you get to it. You spend these miles knowing this hill is coming and watching it get nearer and nearer before you winch yourself up it. We roll along through farm country to the turn at Huntingdon. We arrive at five thirty and stop for a tea of toasted sandwiches, heading south forty­five minutes later. A small group of us put on our reflectives and lights as darkness approaches.We fly down the other side of the lump and across the long straight. The night becomes chilly and I'm tired by the time we reach the border. Back at Rouses Point by about ten, we plan to sleep for a three hours but not before a little supper, a few bowls of pie and cream.
On the long road by Lake Champlain both Roger and myself needed a couple of cat­naps. It was getting light as we neared Burlington but too early to see much traffic. I notice the elm trees as we ride along, something no longer seen in England. We stop for a break at a gas station in Burlington where I buy a quart of milk for $1.39, I could have bought a gallon of petrol there for the same. I remark to a man filling his car that it's cheaper to run a car than ride a bike, the man just grinned at me.
Still feeling jaded from riding in the small hours we get to Middlebury at eleven and leave an hour later, still having to stop for cat­naps by the road. Now we must confront the Middlebury Monster again. After hearing yet more tales of terror about the climb, this time from the other direction, I started to get that dread feeling as it ap­ proached. It wasn't too bad in the light of day and I managed to ride over it without having to walk. Down to the valley floor it starts raining again and there's a noticeable drop in temperature. We grind up the long drag of Killington and reach Ludlow just before dusk. I see Larry Midura at the control, I hadn't seen him since the London Edinburgh last year and we have a chat. He reckons we'll make the next control by one o'clock.
We leave the control at eight. It was to be a long night. The long climb straight out of the control did little to warm us up as we were now in the middle of the mountains and it is quite cold. On the long descent the couple from Florida who were with us had to pack since they were shivering so much with cold they couldn't control their bikes. Roger felt the cold too which was unusual because he is from Derbyshire which gets its fair share of rough weather. I was warm as toast wrapped in my poncho so I gave Roger the used pages of route sheet to stuff up his jersey. This section seemed to go up and down, one climb after the next. The cold, damp night and the relentless climbing conspired to wear us both down and we had to stop for sleep on the roadside. It was nearly four o'clock by the time we reached the Brattleboro control. We agreed it was the most difficult section of the ride so far and had three hours sleep before returning to the bikes.
On route to Bullard Farm we ride through the last of the Green Mountains but the hills aren't finished yet and there's still a couple of good climbs. It turns into a nice sunny day for our last day on the road and after the Bullard farm control we are on the last leg. A fairly long section that we break up with a stop at a gas station, finally making it to the finish at exactly six o'clock. I look at my cycle computer and it reads 8000km, the total distance from Vancouver to Boston with the Can­Am challenge. Both ranndonées present quite different challenges as well as different scenery but they are both classic rides in their own right and I loved riding them.
Many thanks to Danelle Laidlaw and Jennifer Wise for organising these rides and thanks to all the helpers at the controls who do all the real work. My tour across Canada and the States was an incredible experience and one that will remain with me forever. I don't keep a journal when I'm travelling, although I know I should, so this is an account of just some of my memories of the trip. For me the worst thing about the trip were the road surfaces in certain places, even the mosquitos and the leg injury didn't bother me as much. The best part of the trip was meeting all the great people along the way, both old friends and new. The best thing, though, is when I look at a map of North America and know I've rolled across it on my skinny bike tyres.