By Red Davis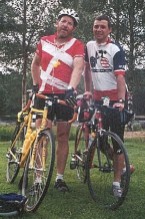 What do you do after spending most of a week riding your bicycle 750 miles, from central California to Oregon and back, getting six hours sleep in four days? If you're Kevin Main, you sleep for two more hours at the end of the ride, then drive to Markleeville and ride 129 miles the next day over five High Sierra passes. Then you fly to Denmark two days later and ride 750 miles through Scandinavia. Then you fly to Boston three weeks after that and ride another 750miles to Montreal and back.
Kevin, RUSA's RBA in San Luis Obispo in the heartland of golden California, joined an elite group of two people in the world who accomplished these feats in 2001. "After we finished the Gold Rush, somebody in he Davis Bike Club asked who was going to do the Death Ride the next day. Stig and I raised our hands, and everybody laughed. We were the only ones not laughing. And then we did it."
Stig is Stig Lundgaard, Kevin's friend from Denmark. They are the only people in the world who rode three 750-mile randonnées and the Death Ride last year. Kevin was Stig's host in the U.S. for the Gold Rush and Stig hosted Kevin in Denmark for the Super Brevet Scandinavia a week later after they rode the Markleeville Death Ride.
Why does Kevin, who works six days a week designing and manufacturing custom jewelry, take on these challenges? "Freedom. The phone doesn't ring, you're lost in space--no demands, nobody's asking anything or telling you that you have to do anything. It's just you and the bike and the scenery and the elements. You get more in touch with your environment--it's not like driving in a car. You get wet, tired, cold, hungry. Your mind wanders aimlessly. There's lots of time to think."
Kevin had a lot to think about on the Gold Rush. Modoc county treated the randonneurs to fantastic light-and-sound shows--deep rumbles of thunder with so much bass that they make your lungs vibrate, jet-like cracks of lightning that split the sky around you and leave a sour taste of ozone on your tongue--and vertical sheets of rainwater that feel as if someone is emptying buckets on you.
Kevin's self-sufficiency was put to the test more than once on the Gold Rush. His first sleep stop was at Alturas, 360 miles and 29 hours into the course. He relaxed onto a cot which immediately collapsed and dropped him to the floor. The attendant rushed to help and asked if he wanted another cot. Lying among the broken framework and ripped canvas on the floor, in true randonneuring spirit, Kevin replied, "No thanks. I'm fine down here." Next morning (two hours later), Kevin awakened and prepared for his second day on the bike. Remembering the food selection on last year's Rocky Mountain 1200, (micro-waved pasta with your choice of red or white sauce), Kevin joked, "How about an omelet, with ham and cheese and onions?" The attendant replied, "Sure, and would you like some pancakes?" And he wasn't joking. "That's what made this ride special," says Kevin, "And when the townspeople who were cooking for us ran out of eggs, they ran home to get some more from their own kitchens."
At Davis Creek, the turnaround, Kevin hooked up with Karen Aydelott, a San Luis Obispo triathlete, and they rode together to Eagle Lake where Kevin devoured fluid-rich foods--watermelon, cantaloupe, fruits and energy drink. They were operating in high altitude and needed to hydrate. Karen offered him salt tablets to replenish his body's sodium. Kevin had never used salt supplements before. Ten minutes after leaving Eagle Lake, everything he had just eaten and drunk came back to him. "Never again will I swallow a salt pill."
South of Susanville, as he rode with his friend James Mott-Smith, "a tough little rider," Kevin's front tire slowly went flat. It was dark, Kevin was tired and he had a hard time with the tube change. In fact, he put the punctured tube back in the tire without realizing it until he tried to pump it up. The repair took 45 minutes and when they started to climb Janesville Grade, James went off the front while Kevin struggled. He missed the turnoff in the darkness and continued up the grade. When the sun came up, he didn't remember the scenery that he was seeing, but that's not necessarily unusual.
He knew he was in trouble. He suspected that he was off the course, headed he-did- not-know-where, with no spare tubes and no patch kit. Nobody knew where he was and he wasn't certain he was even headed in the right direction. He repeated his mantra, "It's only a bike ride. You're not going to die." Just after sunrise, he saw a Forest Service truck driving toward him. Kevin stopped and waved for help. The ranger waved back and kept driving. Kevin's spirits plummeted--he felt disheartened and alone. "I had a feeling I was on the wrong road--I couldn't tell. I was becoming delusional."
A half hour later, he reached the summit. The road forked--and both forks were dirt. He knew then that he was not on the route. A clue that all might not be lost was a sign that said 26 miles to Greenville. He knew Greenville was a control station and it had to be downhill to get there because he was at the top. "Twenty-six miles downhill. How bad could that be?" Well, it was dirt, a rutted fire road that looked as if it hadn't been used for a while. He turned his John Cutter road bike into a mountain bike.
Halfway down, Kevin remembered not seeing a patch kit in his bag when he changed the flat tire. The only extra tube he had was the one that had the slow leak. As he formed the thought, "I'd better be careful because it's a long walk," his front tire hit a rock and went "Poof!" Well, sometimes randonneurs walk. Kevin rolled his John Cutter mountain bike down the dirt road for a while, then he saw tarmac--asphalt--the end of the dirt road.
Motivated by the prospect of riding on a hard surface again, Kevin reintroduced the slow-leak tube to his front tire, pumped it up, and rode on. Ten minutes later, he pumped it up again. Ten minutes after that, he did it again. He repeated this for an hour until he intersected North Valley Road and was back on course. The best part about being on course is that, every once in a while, another rider comes along. Here came Chuck Bramwell with a glueless patch kit. Kevin patched the tube and went nowhere. The glue-less patch did not work. "I will never use one of those again." The next rider was Tom Reynolds, who carries most of the inventory of a bike shop in his pannier. He gave Kevin a tube and they were both on their way to the next control.
Kevin persevered and finished the ride in 81:48. The final trick that the event played on him was that someone erased the note that his wife left on the message board telling him which motel and which room she had reserved for them. Kevin spent two hours tracking her down, two hours of lost sleep that he needed to prepare for his next adventure the next day-- Markleeville.
Kevin has done the Death Ride (129 miles and 16,000 feet of climbing) every year since 1992, but never immediately after completing a 1200k randonnée. "And you know what's amazing? I did it in my usual time, 12 ½ hours." Kevin was sick when he began the Super Brevet Scandinavia the following Friday. He had a chest infection and lower intestinal flu and everything that that implies. "I was not feeling well. I had to stop the first day in a wooded area, one of those places where the farmers use electric fences around their fields. Stig yelled at me to be careful and I was, but when I stood back up, my helmet hit the electric fence. That got my attention."
The Super Scandinavia was done audax-style, 38 riders starting in a double paceline while motor vehicles gave them the right of way. "We rode 400 kilometers the first day, including a ferry ride into Sweden." They rode two days through the southern parts of Sweden and Norway and finished in Kristiansand.
"I would not have finished if the Danish riders hadn't taken me under their wing. They literally pushed me up hills. I didn't have to lead a paceline or ride into the wind by myself." Kevin said the riders never used their lights. They had 6-7 hours of sleep each night, "which is not normal," because they rode as a group and there weren't many hills. They did see high lakes, fjords and pine forests--"Breathtaking scenery." ARD Sjælland cycling club provided breakfast and dinner and overnight accommodations at youth hostels in the three countries. The randonneuring cyclists purchased lunch along the route. "Controls were at gas stations and they had incredible food there."
By the third day, Kevin felt better and on the fourth day he finished the randonnée. Three weeks later, he flew to Boston for BMB. Gerry Goode picked him up and Kevin spent the night before the ride at Gerry's house. And, finally, "I had a fantastic ride. I was in shape by now. I did it like a tour--didn't push it, knew I'd finish, just rode the bike." He hooked up with Mel Stoler from Brookline and they rode together.
Kevin ran out of water in Canada. They stopped at the top of a hill and asked a man who was watering his lawn if he could help them. He filled their bottles with spring water, "right out of the ground at 52 degrees. It was important for him to tell us that, '52 degrees, right out of the ground."' Kevin said that the highlight of all his rides was watching Don Silas and his nephew, Turbo Flores, 14 years old, coming in to the finish completing the Quads. "Knowing that they gave every ounce they had and there wasn't any more. It was one of those moments in time when you could say you were there."
Kevin intends to complete the 2002 brevet series, including a flèche and a 1000k. He wants to do BMB and the Last Chance randonnée--and next year, of course, Paris-Brest- Paris again. Cycling is a spiritual adventure for Kevin. "It's like life--you need to concentrate on the journey, not the destination. There's a tribe in Africa that spends their whole lives traveling. They walk for days on end, only stopping at night to sleep. Then one day they'll stop, for no apparent reason, and sit a while. Then they walk some more. An anthropologist studied them and asked them why they stopped. 'So our souls can catch up.' That's what I do. Bicycling is a chance for me to get away from work obligations and responsibilities and slow down and wait for my soul to catch up."