In Memoriam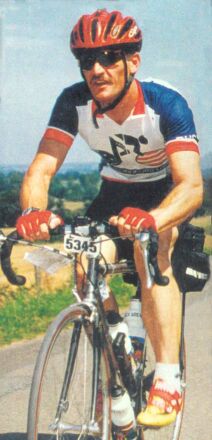 "I feel a personal loss. Mike started his randonneuring career four years ago, when he just showed up for a brevet. It was a year before I realized he was not another aloof racer mingling with the hoi-poli, but instead a private and shy man. It developed that he had a very keen sense of humor and was patient to a fault. He was a very strong rider, among the fastest randonneurs I have known, but was usually content to ride with slower riders, quietly enjoying their company and their comments. He was pleased with his times at brevets and at PBP (he also rode BMB in 2000) but I heard him speak of them only reluctantly, and then only when asked. I would be pleased if my children showed his traits as they grow into responsible adulthood. The Ohio Randonneurs Brevets will be dedicated to Mike's memory this year."
***
David Buzzee, RBA Ohio
"Phyllis and I learned today that a good randonneuring friend of ours, Mike Herbst, passed away Wednesday evening. Mike lived in Peninsula Ohio up near Cleveland with his long time girl friend Cheryl and was an avid cyclist. He had ridden that PAC tour, BMB, PBP, and other long distance rides. We had ridden many miles together over the past 4 years on the Ohio brevets and also rode most of the later part of Paris-Brest-Paris together.
Mike was found Sunday morning unconscious along a country road up near his home. It was not known if he was hit by a car or maybe a deer - and it probably will never be known. Mike was taken to Akron and was in ICU. He never regained consciousness. We are very shocked and have shed tears tonight. Mike was one of those very quiet guys who on brevets would kind of get into a zone. I recall once when we were riding I asked him something and he didn't respond. He was behind us at the time and I turned to him and told him to stop zoning out on us.
Another memory was the Sunday before PBP several of us got together for dinner. When we cycled back to our respective hotels (Mike was staying in a different one) we were stopped at a light ready to turn left and Mike came across several lanes (there was no traffic), shook our hands, and wished us luck on the upcoming ride. Little did we know that we would meet up with him during the ride (amongst 3700 other cyclists) and ride most of the later part together.
Please keep in mind how fragile life is and that we must do all we can to enjoy life. Cycling is so important to all of us and we must always do it carefully (sometimes I need to be reminded too). Mike was doing what he loved too. We will definitely miss Mike. Our hearts go out to Cheryl and the rest of Mike's family. "
***
Don Hamilton
Peninsula man dies of injuries from bike crash
A Peninsula man died Wednesday night at Akron City Hospital after being involved in a bicycling accident last weekend. The Summit County Sheriff's department identified the man as 43-year-old Michael J. Herbst. Sheriff's Sgt. Jerome Hall said yesterday that the accident was under investigation and that an autopsy was scheduled for today to determine the cause of death. The accident occurred Sunday morning between 9:34 and 10:21 near the intersection of Major Road and Oak Hill Road in Boston Township, according to police records. The bicycle was taken to a Sheriff's department post in Boston Township, where the Bureau of Criminal Identification and Investigation was examining it to determine if it might have been hit by a vehicle, Sheriff's Capt. Roger Kline said. A resident in the vicinity of the accident saw something suspicious in the road Sunday morning and called the Sheriff's department to report it. Herbst was taken by a fire department vehicle to Akron City Hospital after the accident. He died at 10:30 p.m. Wednesday, February 20 according to a hospital spokeswoman.
***
February 15, 2002 from the Ohio Beacon Journal