By Jennifer Wise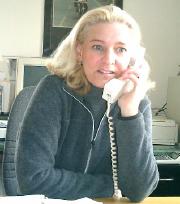 Excerpt from "The Granny Gear Diaries"
The long-awaited cycling season is here. Yippee! The temperature is above 60 degrees, and the chill is gone from the air. It's time to hit the road. Some of my cycling colleagues have already completed the bulk of their brevets. Yikes! I've got to get in gear. After months of hibernating, I went out for a 25-mile ride with Pierce.
I accidently grabbed one short-fingered glove and one long-fingered. Didn't check the bike first. The chain slipped all over the place. I stopped and fiddled with it long enough to disappear from Pierce's rear-view mirror. He turned around, came back and asked what the trouble was. I explained. He touched something, winked at the derailleur and honest-to-God the thing worked perfectly for the rest of the ride. I never ride with tools. I ride with Pierce.
I wonder if half the folks who come back to BMB year after year, come just to have Pierce adjust their bikes at bike inspection? Or is it for the beer at the end...? Anyway... I need a cycling goal this year. Without a goal, there's no point in training. I could still go out for leisurely 25-mile ride, but I know I wouldn't push hard. I'd tool around, smell the ocean and avoid the really hilly routes.
So here's what I need to do:
set a cycling goal for this year
check over bike, clean and lubricate chain
sort out cycling gear; discard anything smelly or tattered. Put away long underwear, windfront tights, wooly hat and wash snot from winter gloves.
zero the odometer
increase calorie intake day before long ride
set up ride schedule; keep training log
stretch before each ride
get eyesight checked road signs are sharp; cue sheet is fuzzy. Need binoculars and a magnifying glass
stay hydrated and happy on bike
get out of Granny Gear
get plenty of rest; snooze in hammock
watch DVD movies in French (with English subtitles)
enjoy sunny summer days, smooth pavement and tailwinds.