By Jennifer Wise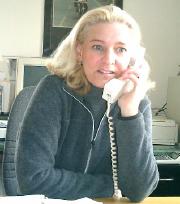 Happy New Year, all you pedal-pushers!
A year from now we will be focused once again on PBP. The ACP announced that the dates for PBP 2003 are August 18-22, 2003. RUSA will distribute information about PBP 2003 as it becomes available.
The RUSA Board of Directors met in January and elected officers. The newly elected officers are as follows: President - Jennifer Wise, Vice President - Bill Bryant, Treasurer - Tim Sullivan and Secretary - John Lee Ellis. Dave Jordan is stepping down as Treasurer after holding this office since August of 1998 when RUSA was founded. Dave will remain on the board in an advisory position until the end of the year. The Board wishes to express our appreciation to Dave Jordan for being an exceptional treasurer, advisor and board member for three years. Dave's leadership in drawing up the RUSA Constitution and Bylaws was inspirational. His advice has been sensible, strong, and drawn from hands-on experience. RUSA is on solid ground, financially and structurally because Dave Jordan stepped up, contributed his time and shared his wisdom.. Thanks Dave.
RUSA CYCLING VESTS will be available in April! The custom-made lined vest will be made by VOmax. The back will look like the RUSA cycling jersey. The front is still in the design stage, but will be predominantly white with the RUSA logo in the upper left chest area. The vest is made to be snug, so if you like to layer, order the next size up. Preorder your RUSA vest now! Use the RUSA Souvenirs link.
The RUSA Board has approved sanctioning domestic events. This means there will be a calendar of rides posted to the RUSA website, such as popularies and permanents. These rides are sanctioned by RUSA, and qualify for RUSA domestic medals. These are not ACP sanctioned rides and will not count toward any ACP awards. Check the Rides section of the website for rides in your area.
The RUSA HANDBOOK of rules for randonneurs, guidelines for riding Brevets, articles on the history of randonneuring, equipment, training, etc., will be published for the first time this year. Every member in good standing as of May 2002 will receive one complimentary copy of the RUSA HANDBOOK this spring.
Does the mailing label of this newsletter have a December 2001, expiration date? If so, sadly, your RUSA membership has expired and this is your last newsletter. Renew today!