Lone Star Randonneurs
Dallas, TX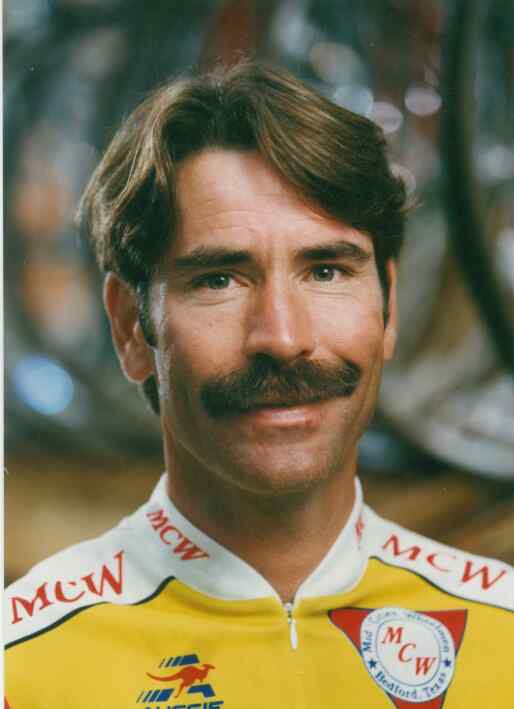 Cycling is my passion. I have enjoyed all forms of cycling: criteriums, road racing, mountain biking, touring, ultra cycling and randonneuring as well as triathlons; but I love training and touring. It is said that if you do not have a goal, you are not training! Randonneuring is a great goal and natural progression from training and touring. You race yourself and the clock. You use all your skills; physical strength, endurance and mental ability to navigate and resolve dilemmas. You just ride comfortably in order to finish in the allotted time. If you want to push, you push; if you want to stop and smell the roses, you stop. We sprinted every city-limit sign on a 400K, and we used all the time on a 600K stopping for breakfast and reading the newspaper. It motivates me to train for and complete each brevet. It inspires me to see other people exceed their own expectations.
Most of my cycling events have been memorable (PBP, BMB, BAM, 12/24 hr. time trials, road racing, triathlons, duathlons, mountain bike racing and running.) BMB, my first 1200K, was an unbelievable high. BAM was one of my better races with the help of a great crew (Don Tennant and Stuart Nibblin), I finished first in the RAAM qualifier division despite brutal heat and other problems. I love the feeling of accomplishment after all the training. In PBP '99, we thought we were going to France to race the clock, but when we got there, we were stopped at restaurants for sit-down meals, made new friends and visited with spectators on the road. I prayed that this fun could last forever.
Randonneur rides can be done without the complications of a crew and still satisfies my need for accomplishing my goals. We are starting our third year of helping riders accomplish their Brevet goals. We have had so many great times. Last year we hosted two sets of Brevets. My first goal is always to return home in one piece, my second is to have fun, and my third is to finish the ride and maybe even learn something. If you would like to know more about us, you will just have to come out and ride with us.
There is no fee to ride with us. We do, however, require a "mandatory" donation for our sag driver, if we can find one. For the 200K, it is $15 per rider, for the 300K - $20, the 400K - $30 and for multi-day rides - $25 per day. In addition, those wanting a medal, pay $10 to cover the cost of the medal, record keeping and postage. We supply maps with designated controls approximately 35 to 50 miles apart. Controls are not manned, but most sag drivers attempt to leapfrog from control to control to sign Brevet cards and give access to riders' drop bags. There are hotels on the 600K and 1000K routes for overnight stays and bag access. The rides are done west of Fort Worth on lightly trafficked and/or wide shouldered, hilly and scenic routes. The routes average 30 ft/mile of climbing, but it will seem like more if the "Texas weather" kicks in. Weather conditions vary widely in North Texas. We have ridden in rain, sleet, hail and temperatures ranging from 15 degree wind chill to 125 degree heat index. Spring winds have been 35 mph with gusts to 50 mph. If that is not enough for you, then just race Dave up every hill. We will do our best to get you a workout. As for the degree of difficulty, we think that is up to the individual. If you think it is too easy, ride faster. I would rate us at least a 6. We typically have 10 to 20 riders participate in the 200K, and as the ride length increases, participation decreases, with approximately 5 completing the multi-day events. This year we scheduled multiple Brevet distances on the same day. They all start at the same point and use similar roads. This has worked out exceptionally well. Riders doing the 200K get to ride with riders doing longer distances. We are pleased that our early season Brevets have made us new friends who drive down from the north to escape the cold. They enjoy the oil wells, cacti farms, and armadillo and skunk sightings and especially the $6.95 all you can eat Mexican buffet. We are also excited about the addition of a Flèche and 1000K this year.
We have a fun-loving group of riders! Some have been riding for years and some are just getting started. We have so many great stories to tell and even an appointed joke teller. We may not have the biggest hills, but we know them by name. Come meet Crazy lady Hill, Cherry Pie Hill and the Three Amigos. We often eat, swim, or just talk before, during and after the rides. Everyone who did all of his/her Brevets with us in 1999 finished PBP. One member (Diane) had never ridden 100 miles before meeting us. Within a year, she completed two Brevet series. Many people accomplish the longest rides of their lives out here. Our riders all contribute unselfishly. Our goal is to have fun. This is our way to give back something to cycling, a sport which we have all gotten so much from. Come ride with us some time.