Adventure Corps
Southern California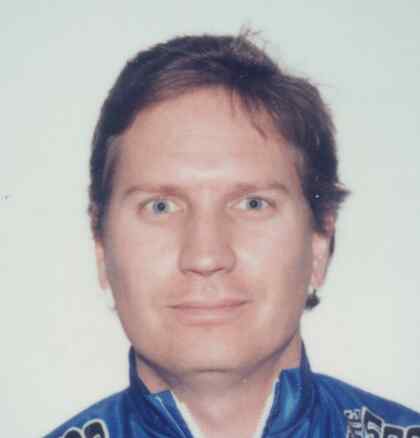 Cycling background
I got into cycling at age 14 in 1982, after being inspired by Sheldon Jackson, who had bicycled across America. That same summer I got to meet Lon Haldeman before the Great American Bike Race; he and his crew were staying in my home town of Glendora. I became the biggest fan of RAAM and vowed to do the race by age 25. In the 1980s I set or broke seven different UMCA distance records. In 1987, I entered RAAM and finished, at age 20, becoming the race's youngest finisher ever. I've raced the Iditasport in Alaska seven times, the Ironman Triathlon in Canada, Triple Ironman Triathlon in France, the 24 Hours of Adrenalin in Laguna Seca and Idyllwild.
Memorable experiences
Meeting and becoming friends with John Marino, Michael Shermer, Michael Secrest, and Jonathan Boyer. Rolling across the finish line beneath Washington Monument in Washington, D.C. Taking five of my spinning students on a two day, 400 mile high speed bicycle "tour" from San Jose to Santa Monica. Traveling across the country a dozen times with RAAM.
Start in randonneuring
In 80s, John Marino was the SoCal RBA and he put on the brevets as "RAAM Building Rides." I did the 200k, 300k, and 400k a few times, riding with Marino, Shermer, and John Howard. I also did Darryl Skraback's brevets of similar distances in the San Francisco area while attending college in Berkeley in the late 80s. In 1999 I enjoyed riding the same distances in the San Luis Obispo Brevet series that Kevin Main organized. I like the spirit and the simplicity of randonneuring. I've done plenty of events with a support crew, but I love being "out there" without a motor vehicle tagging along.
How long as an RBA?
This is my first year. The position became available and I was available. I thought I could find good routes and that the events could be done more economically. I want to help bring the world center of ultramarathon cycling back to Southern California, like it was when I got into the sport in the early 80s. By producing and promoting these brevets, along with Furnace Creek 508 in October (which I have produced for over ten years), I hope to accomplish this goal.
Southern California is a beautiful place with a lot of interesting and challenging places to see and ride. I am inspired by all the great cyclists and friends I have in this area who are participating in the brevets. I am also particularly thankful to Scott Scheff, who will be the actual Ride Director during the brevets, since I will be riding them as a participant. I have never had the luxury of participating in an event which I have organized.
Other ultramarathon riding/supporting/crewing
I went across America with RAAM a total of twelve times: twice racing, three times officiating, once crewing, and six times as Race Director of Team RAAM. I set the first SF-LA cycling record and worked as a Race Official at the 1984 John Marino Open. I have been at 24 of the 26 west coast RAAM qualifiers (AKA John Marino Open, RAAM Open West, and Furnace Creek 508): two racing, two crewing, eight officiating, and twelve as the Race Director.
About the Southern Cal Brevets
Entry fees are $20, $35, $50, and $70, respectively. Services provided: each entrant will receive a route slip, manned checkpoints along the route, and basic food support such as fruit, sandwiches, water, Sustained Energy, Hammer Gel, and energy bars at almost all of the checkpoints. For the 400k and 600k events, drop bag service will be provided. For the 600k one hotel room will be provided for group use at the turnaround. A few roving vehicles will sweep the course. Terrain: Varied, fun, and challenging. It's an epic, remote, fascinating ride with a wide variety of terrains and climates.
Difficulty ratings
200k = 6, 300k = 8, 400k = 8, and 600k = 7. All the controles are staffed. Typical weather? It's Southern California! It's always beautiful and sunny here! We had 42 riders at our 200k, and expect 25 at our 300k. Bike seminars? No, we don't do that. What's Distinctive? Beautiful routes! Easy access to the start, each in a different place!