By Liz Crotty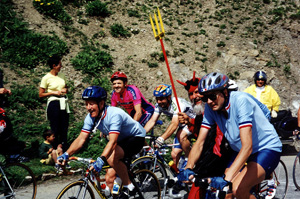 I lived in France for nine months and was friends with Charles Bouchard, organizer of many Audax rides in France, including the Audax Paris-Brest-Paris. Since there are very few Americans who have participated in any Audax rides, I want to share what my experience was as an American Randonneur who did PBP in '95 and was so enamored with everything about it, that I ended up living in France for most of 1998.
Simply put, Audax riding is a group ride in a double pace line with a captain of the ride who is responsible for setting the pace that averages right around 12.5 mph. The captain generally stays out front, calls out turns, is responsible for knowing the route and keeping the group on course.
I did a Flèche Vélocio to Carpentras, and an Audax "tour" from Fontaine-les-Gres to Luxembourg to Sarrebourg. The Audax ride captain had the cue sheet already made out with times to start, stop, and how long the stop would be. The meals were preplanned and beautifully orchestrated at restaurants where our 12.5 mph pace got us to arrive at mealtimes and the local tavern would have places set for the 14 (Velocio) or 30 (Tour) riders who were present. We just walked in and hung our helmets on a chair and sat down to meals which were pre-ordered and included in ride entry fee. We all had copies of the cue sheets and knew when and how long these stops were. On the tour we arrived at a summer camp place around midnight and served a hearty meal of Hungarian ghoulash in their rustic dining hall, then slept in little cabins. We then headed out at 4am on a fairytale ride through Luxembourg city at dawn on a Sunday morning. It was definitely an exquisite randonneur moment.
An Audax ride is, from my two experiences in France, a very structured team ride. We had riders having trouble and had to break up one of them toward the end. We then regrouped after the sag vehicle squeezed in some riders who had major mechanical problems. The captain of the ride stayed back with the riders having trouble and worked it all out. The rest of the group rode on and stopped at one point to wait for the sag vehicle. The captain said it just wouldn't do to go on and leave them.
I enjoyed those two rides tremendously but wouldn't want to do that all the time...as much fun as it was to have people to chat with all the time, it got a bit monotonous with the slow pace. The stops were rigidly adhered to. The restaurants and places to sleep were expecting us and if you weren't ready when the group was, they just would roll on. No one ever got left, but I don't recall anyone being out of tune with group. I was not speaking French fluently at the time, but just watched and figured it out.
Other than the captain and a few real strong riders staying out front, the pace line organization in the back of the pack was based on conversation. Some of the weaker riders were pushed up hills by the stronger riders. One man gave me a push up the hill, just to be nice. This didn't sit well with me. This American Randonneuse prides herself on making each pedal stroke on her own. This is why I think Audax riding won't catch on here in the United States. We, as a culture, are too individualistic to go for this style of riding.
* * *
Union des Audax Fran&cedilla;ais is hosting two Paris-Brest-Paris tours in 2001 and welcomes RUSA riders.
Dates: July 23-27 and August 20-24.
Qualification: complete a 200k, 300k, and a 400k or 600k Brevet the year before participation.
Entry Fee: 2600ff.
Deadline to enter: A nonrefundable 500f deposit is required by April 30 along with entry form.
Contact: Charles Bouchard, President
by post: Charles Bouchard, President UAF, 14, rue de la Pirouette, 91150 Etamps, France.
Tel: 011 33 01 64 94 93 41 Fax: 011 33 01 64 94 9341.
Visit the Audax-UAF Website
Et, voila!