Southern Florida
West Palm Beach Cycling Club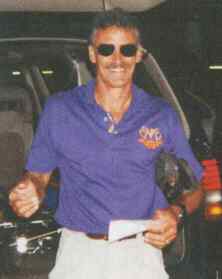 I started cycling because my knees could not handle volleyball or running any longer. I joined West Palm Beach Bicycle Club and started doing some club events. A few longer rides later I graduated to the 170 mile Cross Florida ride.
The next logical step was the Brevets run by Gladys Gallo in Miami. The rest is history. I have been lucky enough to meet many ultra cyclists and completed PBP twice and BMB four times.
My most memorable cycling experiences: that big beautiful moon rising above the forest the last night of PBP last year and the combined memory of the BMB tortures and triumphs.
Gladys and Victor Gallo were my early mentors. Victor taught me about ultra riding and Gladys about running brevets. I took over the South Florida series when she retired after the 1995 PBP. I did not feel that I accomplished what I had set out to do in Paris and wanted to go back. Only problem was, no one came forward to run a brevet series here. I figured it would be cheaper to run them than go to North Carolina to ride them. It takes a lot of work and some creative planning but I have been able to do so since 1995.
The entry fee for the 200km is $20 for members of the West Palm Beach Bicycle Club and $25 for non- members. This entry fee entitles one to munch pre-paid road food at at least two controls along the way. (Highlighted by some of Holly Elmore's famous chocolate chip cookies served by my wife Mari). We usually have at least 50 for this flat fast course which runs along the beach on Highway A1A. The number of riders will dwindle to about 20 for the 600km in off PBP years. As the miles increase, the entry fee gradually does by $5 per event.
The 300km is in South Florida with the 400km event in the Central Florida hills. On a hot windy day, the 400 can be a good challenging ride for anyone, rating a 5 or 6 (if the Boston Brevets are a 9 out of 10.) The 600km will be in North Florida, starting and ending in Gainesville. The 300km will also be a flat fast course. The degree of difficulty for the 200k and 300k is in the 2 to 3 range maybe peaking at 5 in you factor in our trade winds.
I am planning a one hour seminar before the 200km to help riders better prepare for the rides ahead. In the last few years, I can see a definite improvement in the number or riders and their commitment to Randonneur riding. Bikes are becoming more specialized with better lighting systems and more riders from Florida are traveling to distant events.
Seven Florida brevet riders finished BMB this past year with four more participating in the Quads. I am also encouraged with the growing number of female riders here and their impressive riding abilities.>P
When the snow flies in other regions of the country, in Florida we are preparing for our season. This means that I get to meet a lot of out of state randonneurs who are escaping the northern chill. Come on down and we will warm you up with a beach ride and some southern hospitality.