By Melinda Lyon, P.F.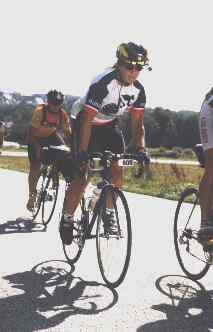 1999 was my second PBP. In 1995 I achieved my goal of a sub-60 hour ride (59:28). My ambition this year was for a faster time and an improvement on my fifth place in the women's classification.
My training was similar to preparations for past 1200K rides (5 Boston-Montreal-Bostons, 1 PBP). This included 16,000 miles/year of commuting; hard weekend rides of 60-130 miles and the Boston Brevet series. I am fortunate to have this brevet series close to my home as they include difficult terrain and attract some great local riders to increase the intensity and speed. These rides are great training for the fast 8pm start at PBP. Thanks to our Regional Brevet Administrator, Dave Jordan, for four weekends of pain.
In 1995 I started with the 5am 84-hour group and had support. This support was helpful but I felt it slowed us down at the controls as it was shared among 4 riders. This year I decided on a light, fast approach with no support (true Randonneur style) and a plan for quick trips in and out of the controls. I also started with the 8pm group hoping that the fast pace would pull me through to Brest in 24 hours. I had energy bars, gorp, and cookies stashed in my pockets and at the 2 American bag drops. I supplemented that with jambon (ham) sandwiches and hot chocolate purchased at controls. We stopped for one hot meal returning through Carhaix (680km).
The start was not as fast as I had feared but a good pace got us through to Villaines la Juhel (220km) in 8 hours which was right on my schedule. Unfortunately in my urgency to make good time, I neglected to eat and drink enough in the first 24 hours. This set me up for quite a bad spell from Carhaix (520 km) into Brest. I realized my mistake (a tad late) and began to increase my food and water intake from that point on with good results. The mental lift of the bridge crossing in Brest and turning back to Paris helped restore my spirits as well.
I had ridden most of my brevet mileage this year with Brad Tanner. We ride well together and were both starting at 8pm. We had similar time goals and had a loose agreement to try to ride together. Because of the large pack at the start we quickly became separated. It was not until the leg from Villaines to Fougeres (300K) that we managed to hook up again. We managed to stay together for the remainder of the ride. This was Brad's first 1200K event and I felt he had a tremendous ride. He remained strong mentally and physically throughout which was a big help to me.
From early on in the ride I was told that I was "Premiere Feminine" at the controls. I was cautiously optimistic that this could be my year. It was a real boost to come into controls and have applause and cheers of "La Premiere Feminine". I had no idea where the second place woman was, so it gave me incentive to keep motoring along.
I had expected the second night to be tough and it was indeed pretty grim. Staying awake became a problem that I just couldn't shake. Finally at 5:45am, with all kinds of ghosts and goblins dancing in front of my eyes, I asked Brad if we could stop briefly. He was snoring within 40 seconds. I set my watch for 6:00AM allowing us a 15-minute nap. That short break really made a difference and we were able to finish the final 370km in 19 hours without further sleep.
The final day went quite well after getting lost going into Fourgeres (900km) for some additional mileage. A thunderstorm with hail helped cool us off around noon. After leaving Villaines we picked up a nice tailwind for the final 200km. I had hoped to finish before darkness fell again but we couldn't quite make it. Brad had a temporary mental breakdown going into Mortagne au Perch (1050 km) and I discovered a rear puncture while at the control. The crew of the Jodi Groesbeck and Adrian Harris (this years mixed tandem winners and new record holders!) were at the control, as Adrian and Jodi had just left. They helped me fix my flat and made sure that Brad got plenty of calories to overcome his mental and physical fatigue. Thanks you guys! Brad felt much better and we were off for the final 150km. Darkness fell but with the end in sight I felt like we were flying. With one hour to go we overtook two riders who turned out to be our guardian angels. One was a German who does RAAM and is very fast. The other was a local "Breton" who finished in 44 hours in 1987. He was very fast and smooth rider, and knew the route! Shameless wheelsucking at 25 mph through the final few miles got Brad and I in just after 1:00am with our new-found tour guides. Final time was 53:11.
I first heard of PBP in 1984 from 5-time PBP veteran Warren Sass and had always wanted to complete it. To actually be first woman finisher in 1999 was very cool and definitely the highlight of my cycling life. I don't think I truly believed I had won until they announced my name at the awards. I returned to work and blurted out "I won" to colleagues at work who have no idea what PBP is. "The Premiere Feminine!!" I told them. This was shortened into my new nickname- the PF. The PF would like to thank Brad Tanner for being a great Randonneur partner. Also Jennifer Wise for organizing all of us disorganized Americans into RUSA. And of course my family, including Robye and my father for being supportive of my weird adventures.
Melinda Lyon
Boxford, Massachusetts