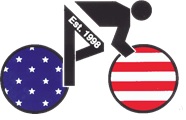 New RUSA LOGO
 
Calling all graphic design-minded randonneurs! 
 
We are looking for submissions from the community for a new RUSA logo. 
 
The parameters for the new logo must convey/include:
1. Our name, Randonneurs USA.
2. It needs to communicate that we are a long distance cycling organization, and 
3. That we are from the USA (so that anyone from the larger randonneuring community would understand that they were seeing the American logo).
4. Use up to 3 colors + black & white.
 
Electronic only submissions (in .pdf form) must sent into Debra Banks (Banksdebra@gmail.com) by August 1, 2016.
 
We hope to have a finished logo by the end of the year.