by Dave Leonard
(Or how yawning can improve your ride)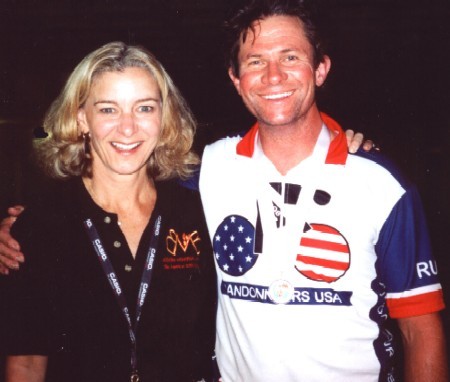 It took a little talking to convince Roger Hillas to ride another 57 miles from Rouses Point, N.Y., to Burlington, Vt., for a two­ to three­hour sleep break. Sleep at that point -- 428 miles and 44 hours into BMB -- was richly deserved. We had been riding together for about 40 miles since I met him south of Huntingdon, Quebec, and we shared the grueling experience of going through the border control to re­enter the United States. After asking where we were from, the friendly border control guy simply said, ``Have a good ride, guys.'' No passport stamping, no photo ID, no bright spotlights in a small room, no strip search.
We were tired, but on the other hand, it wasn't raining. The wind had subsided and the full moon glistened through the serrated clouds above Lake Champlain. We continued. Three hours later Roger, of Washington, D.C., asked if I had enough warm clothes on board to bivouac along the road. I did not have any clothes that were dry and I really did not want to pause just yet. One hundred sixty miles earlier, I had strained my right Achilles tendon when trying to snap out of a gummed­up pedal. Standing to pedal made pain shoot up to my knee. I was better off remaining seated.
We rode on, discussing travel in northern Italy, and speculating who stole the Vermeer painting from that Boston museum in 1990. Roger --who has the enjoyable trait of NOT needing to discuss the minutia of bicycle gearing or the length and steepness of every single hill -- became dangerously sleepy. There was not a building in sight. Finally we spied a trailer near the road. It had a wooden porch, where we propped our feet up. Roger was snoring within seconds. I watched the high clouds for five or so minutes. Still abuzz from Vivarin, I wanted to get moving, so I hatched a scheme. I faked a yawn to awaken Roger. He asked how long we had slept. `Oh, maybe 30 minutes' said I, the feckless one. Roger said he needed the sleep and felt a whole lot better. Thus refreshed, we continued into the night. When I later confessed to Roger I scammed him, we laughed and he admitted it seemed more like 5 minutes. He was glad I said though, since it worked and kept us moving. We both agreed that getting to Burlington the second night was pivotal for successful ride.
I had discovered the value of a yawn the previous night in Middlebury. The plan of reaching Burlington the first day had washed away in eight hours of cold rain. Around 10:30 Thursday night I started feeling hypothermic and decided to shower and sleep while it was still raining. Cots were set up in the Middlebury hockey rink where it was warm and quiet, but the only empty cot had no blanket. I was crestfallen to learn there was only one blanket per cot. After a brief shower my dry shorts and jersey from one of four drop bags along the course had gotten wet from the walk to the control building in search of a blanket. Volunteer Nancy Raposo ( a former RAAM winner) thoughtfully offered me her pink­striped towel. It was wet, too. Dejected, I bowed my head and made my way back to the cavernous rink. Three rows towards the back there slept a very large fellow with two blankets. I could see mounds of white flesh between the two blankets. Groggily I opted for the wet towel rather than a late­night tussle over a blanket with a big naked guy, as I shuffled toward my lonely cot. How had I become such a loser? Minutes later Nancy came in to tell me the guy in the next cot would leave soon. There would be a free blanket. He looked dressed and ready to ride, so I made a quite yawn to make sure he didn't fall back to asleep. Bingo. As soon as he stood, I snatched the warm blanket, snuggled, and slept instantly.
Three hours later, at 2:30 Friday morning, Nancy shook my arm. I awakened with a start, screaming at the top of my lungs. AHHH! She asked if I needed a few more minutes. I nodded and fell fast asleep. Ten minutes later we repeated the same skit. She shook, I screamed, she laughed uproariously while gesturing me to hush. The grins were short­lived. As I rubbed the sleep from eyes, I sat forlorn on the cot, staring stupidly at my sopping wet cycling shoes. I just could not bring myself to put them on. Fortunately the jersey and shorts I was wearing were mostly dry by now, but for a full 20 minutes I stared at the shoes and pondered how to get myself out of this mess. Finding no options, I sloshed into the wet shoes and pedaled back into the night alone. That was how I discovered how a simple yawn could benefit a deranged ultra­distance cyclist. I'm not especially proud of my actions, but Bill Bryant told me a randonneur must be resourceful.
Just after midnight Friday, Roger and I snagged a room at the Holiday Inn, Burlington. It was a hilly and cruel 3.8 miles off­ course, each way, but worth the journey. The receptionist extolled the virtues of the motel, which included a gym and pool in case we needed to get a little exercise while not cycling. We had ridden 481 miles of the course, and deserved a three­hour sleep. The next morning, sunrise breakfast at Friendly's eatery was indeed friendly. The accommodating waitress honored my request to turn down the blaring country western music. She not only turned the scratchy radio down, but also switched stations to Elvis Presley being all shook up. Haummmm. She also gave me a door prize of free French toast after I stuffed down the `Hungry Man' breakfast of eggs, sausage, eight pieces of toast, orange juice, biscuits, two pots of coffee, and a Coke. She probably doesn't see very many 150­pound guys eat like that. Our tanks full of maple syrup, we rode fast out of Burlington. We were thrilled by the lack of rain. I don't want to say it rained a lot on BMB but I did develop small pink gills behind each ear. I was also continually adjusted my seating position to find a fresh patch of skin to abrade. At a gas station in Hinesburg Roger called his sister Susan, who lives a few miles off course. As she and hubby Barton drove out to meet us, I continually adjusted my seating position attempting to find a new patch of skin to abrade. It really perked us up to have such nice people impressed with how far two old farts were riding.
With Quebec and New York now behind us, all of Saturday's ride was a push south for the length of Vermont. Vermont's Green Mountains are just that --- wondrously lush and remote. And steep. Legend has it the roads in the area were paved directly behind goats as they headed up hills. This very well could have been the case. As near as I can tell, there is only one switch back in the entire state. All other roads progress directly up hill.
The few inhabitants of the rural mountain communities are helpful, but apparently suffer an addiction to maple syrup. The stuff is everywhere. Stacked in stores, gas stations, and roadside fruit stands. I hear it's law in Vermont that every citizen must be in possession of six ounces of syrup at all times. Extra credit is given those with metal containers that mimic log cabins. Some homes have syrup plumbed directly into kitchens for immediate dispersal. Highways are so sticky with syrup you just wipe your pancakes on the road. Many rural New England residents operate untended roadside fruit and vegetable stands. They rely on the honor system. That would never work in California where I live. Somebody would swipe the veggies in a heartbeat, and probably load up the table and umbrella for good measure.
After Brattleboro, the route crosses the Connecticut River and passes through the southwest corner of New Hampshire. The hills continued into Massachusetts Sunday morning. My Achilles tendon howled, but I think every other rider on a 1200k has similar physical problems. This was the last day of the ride. I told myself I wouldn't need the heel tomorrow. I spent my energy lavishly poundingup every hill. The plan of finishing by 10 a.m. was long gone. I just wanted to get in before sunset.
Just west of Sterling a hot­looking paceline of four riders appeared in my rear­view mirror. I rode faster to keep ahead of them, but they quickly reeled me in. From the higher numbers on their bikes I could see they were quad century riders. They each said hello as they passed. The guy at the end just smiled approvingly and nodded as he said `awesome.' His obvious respect for what I had been through gave me great courage. A philosopher once wrote; `Be bold, and great forces will come to your aid'. This century rider, whom I will never know, gave me strength and determination to continue when every part of my body wanted to sleep. Once in Sterling I met up with about a dozen other riders. We ate our deli sandwiches on the sidewalk and tried to explain to some local shoppers where we'd been. They didn't believe we were returning from Canada.
By noon I was fully alert, felt great, and really wanted to keep moving. I rode as fast as I could, but was momentarily delayed by the first flat of thetrip just eight miles from the finish line. At 4:12, I crossed the line to spirited --- and much appreciated --- applause. Seven hundred sixty one miles in 84 hours and 12 minutes. Roger, having finished almost an hour before, waited to greet me. We had become separated Saturday due to the fact he was climbing much faster than I. I made a point to thank Pierce Gafgen for fixing that jammed pedal in New York and my derailleur in Ludlow. The camaraderie of the ultra­ cycling community is truly invigorating. After a shower I returned to the finish line to chat and cheer for riders finishing. My friend and most generousride­host Kayo deOlivera was also there to welcome me. Kayo, a fellow BMB rider, is an accomplished ultra­distance cyclist who went out of his way to make me feel welcome and introduce me to fellow riders and his many friends who to work BMB.
The reputation of BMB organizers for putting on a quality ride is richly deserved. Volunteers made a special effort to deliver personal service, to call riders by name, and to provide hot fresh food at every control. From pizza in Middlebury, chicken and rice in Rouses Point, grilled ham and cheese in Quebec, to custom omelets and blueberry pancakes in New Salem, there was not a bad meal to be found. They even provided free Duracell batteries at every control and with every roving course vehicle. While crawling up the backside of `Mt. Terrible' Saturday night in the rain, I swore this was my last 1200k. That resolution didn't last long. I'll be at PBP next year and give BMB another go in 2004, if I ever get this ankle brace off.
* * *
A Note About the Author
:
David Leonard completed PBP 1200k in 1999, a 1000k in 2000 to earn the Randonneur 5000 medal. He completed the Gold Rush 1200k Randonnée in 2001 and now the BMB 1200k in 2002. When he wrote this, his right ankle, immobilized in a brace, was about the size of a cantaloupe due to his damaged Achilles tendon.