By Jennifer Wise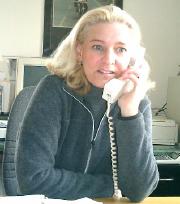 Election Results: Lois Springsteen has been reelected to the board. We welcome newly elected members Mark Thomas and Dan Driscoll to the board. We thank Don Hamilton, Matt Settle and Bill Strachan for offering to serve. The Board wishes to express our appreciation to departing board member Dave Buzzee for his contributions to RUSA. Dave is a founding member of RUSA and has served as RBA Liaison for the past four years. Dave's experience, common sense and good humour have been valuable in our decision making. Dave continues to be the Ohio RBA.
RUSA PBP Jersey Design Contest: Jersey design # 3 has won the RUSA PBP jersey design contest. Members can pre­order the jersey using the RUSA souvenir order form. The jersey will be available in June of 2003.
Year in Review Stats: Over 150 RUSA events were held this past year with over 2894 participants. Jim Kuehn has processed over 2100 brevet results thus far. There are over 200 events on the 2003 calendar marking a 35% increase.
American Randonneur Award: Nominate the randonneur who has inspired you for this high RUSA honorarium.
Membership Renewal Time: Memberships expire December 31st. You must be a current RUSA member at the time you do your first brevet. This is critical for PBP qualification. Renew now!
Randonneur Christmas Wish List: Here are a few gift ideas for the randonneur who has everything:
Fred Matheny's, Complete Book of Road Bike Training, from www.roadbikerider.com. Get it, read it and keep it handy for advice on equipment, clothing, nutrition, riding in adverse weather, indoor and outdoor training. Caution: do not read while riding rollers.
Every rider has to have Casio's pocket EXILIM Digital Camera available at www.exilim.com. This tiny treasure of a digital camera is the size of a credit card, less than ½" thick and fits in your jersey pocket. Whip it out and record that moose on the road, the switchbacks up ahead, or (using the self-timer) yourself at the summit of Mont Ventoux. It comes with a USB cradle and software for easy upload so you can send photos via email without being a PhotoShop whiz. The optional case will also carry your credit card, so don't leave home without either one.
Trico Sports is offering RUSA members the best hardside bike travel carrier at a 45% discount. To get the Iron Case discount coupon, send me an email to otherwise@att.net.
The RUSA Wind Vest is the perfect outer layer for the chilly rides just ahead. It's available from RUSA using the RUSA souvenir order form.
Don't forget to brush up on your French, with software from Transparent Language. To get the French Now! 25% discount coupon, email your request to me at otherwise@att.net.
The new CatEye EL300 OptiCUBE LED headlight is a perfect handlebar mount light, that doubles as a flashlight. It has 5 LED white lights, runs on 4 AA batteries, puts out 400+ candlepower, weighs 6.8oz and lasts 100 hours.
Have you been naughty... or nice?